Note: This article will be removed by Winter 2022 as the System Performance Measures (Beta) will be phased out. Please refer to the following System Performance Measure articles for information and guidance on how to use the new SPM fields in Looker.
System Performance Measures - New Articles:
---
Measure 2 is much easier to grasp than measure 1... relax. You've got this.
Overview of Measure 2
"This measure begins with clients who exited to a permanent housing destination in the date range two years prior to the report date range. Of those clients, the measure reports on how many of them returned to homelessness as indicated in the HMIS system for up to two years after their initial exit." HUD System Performance Measures Programming Specifications.
Keys to Measure 2 Success
Eligible Project Exits
The following describes the conditions required for Eligible Project Exits.
Project Types and Destination
All eligible project exits must have a Permanent Destination from one of the following project types:
Street Outreach
Emergency Shelter
Transitional Housing
Safe Haven
Permanent Housing
Window for Consideration
[Project Exit Date] >= [Report Start Date] - 730 days (two years)
[Project Exit Date] <= [Report End Date] - 730 days
For example, the 2017-2018 reporting year dates would be:
Reporting Period: 10/01/2017 - 09/30/2018
Measure 2 Project Exit Window: 10/02/2015 - 09/30/2016
The earliest project exit in the Measure 2 window, with a permanent destination, will be reported in Measure 2. In the event there are two exits on the same day with a permanent destination, the exit with the earlier Start Date will be reported.
Eligible Returns
A project start in either Transitional Housing or Permanent Housing project indicates a return to homelessness. However, the period between the [Exit to a Permanent Destination] and [TH or PH Project Start] must be more than 14 days. This is to prevent counting a simple project transfer as a return to homelessness.
---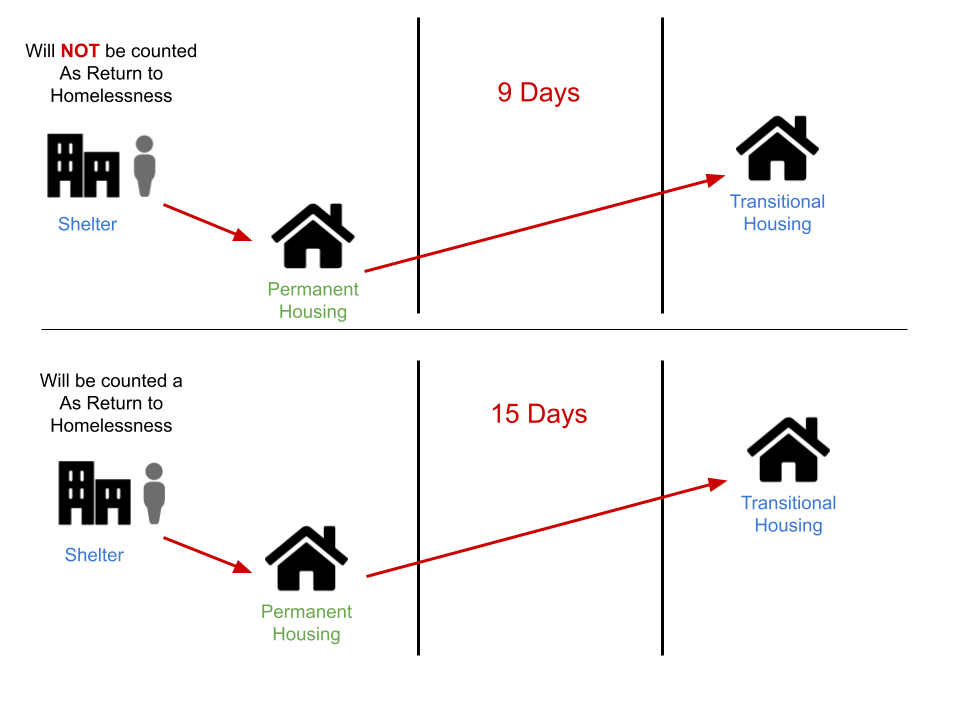 ---
A project start in Street Outreach or Emergency Shelter is not considered the most reliable method for determining a return to homelessness for the System Performance Measure 2.
Updated 4/5/2021