We're excited to announce new feature updates for Clarity Human Services, summarized below.
Release Schedule:
All Training Sites: Monday, August 23, 2021
All Production Sites: Tuesday, September 7, 2021
Updated — System Agency Not Included in Total Agency Counts
Overview: All instances have a "System" agency that is intended to be used solely for admin purposes. With this update, we will no longer include the System agency in the total number of Agency Seats shown in the SUBSCRIPTION DETAILS section under SETUP > DASHBOARD.

Programs added under the System agency will still count toward the Program counts in the instance.
Required Action: None
Updated — Ability To Add a Start/End Date When ROI = No
Overview: Currently Start Date and End Date values are only included in a Release of Information (ROI) when Permission = Yes.
This update allows users to add a Start Date and End Date if ROI permission = No. The Start Date will be required; the End Date is optional.

The logic for permitting overlapping ROI records is based on the instance setup ROI settings.
To prevent having both a No and a Yes recorded for the same client, users cannot save a Yes if there is already a No that has not been ended prior to the Start Date of the Yes. Refer to our Release of Information article for additional details and examples.
Required Action: None
Updated — Departments Logic
Overview: As promised in our July 2021 Feature Updates article, the logic for service-connected Sharing Departments has been updated. With this release, when a Department is connected to a Service (or removed), it will now apply retroactively to services provided to clients. Additionally, historical client records for Services that have a connected Department will be updated.
Required Action: None
Updated — Program Assessments Display Logic
Overview: We have updated the logic for the scenario in which a Program's sharing setting = Full Shared and the user's Access Role does not permit the user to edit the client's Program.
Previously in this situation, the user could see the list of assessments that could be created and could start an assessment, but due to access role permissions would not be able to save that assessment.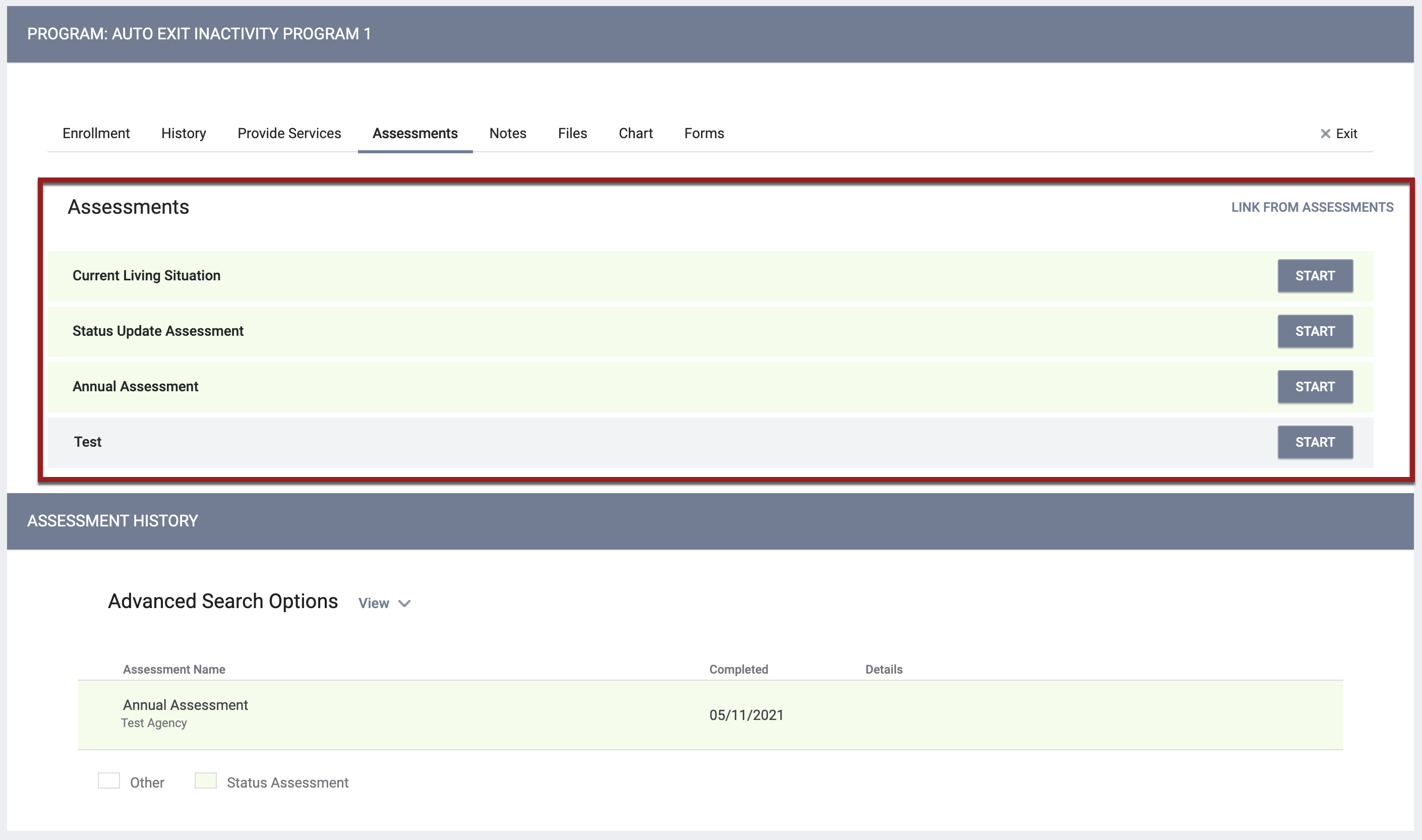 With this update, the user will not be able to see the assessments in the Assessments list and consequently will not be able to start an assessment. The user will still be able to see the View link in the ASSESSMENT HISTORY section.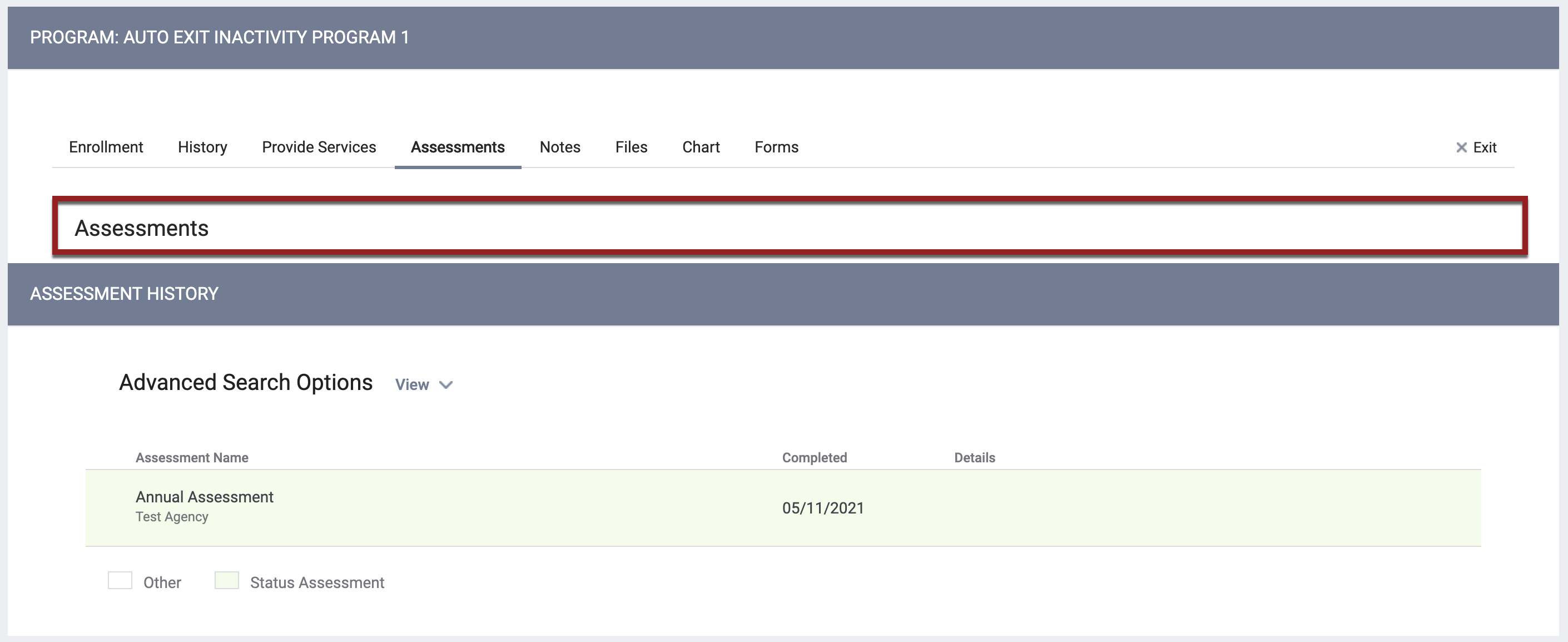 Required Action: None
Updated — Added "None" Option to "Inactive Referral Expiration Threshold" and "Community Referral Threshold"
Overview: We have updated the picklists for the Community Referral Threshold and Inactive Referral Expiration Threshold in the Referral Settings to include a "None" option. For new Community Queues created, this will be the default setting. Existing Community Queues will retain their currently assigned selections.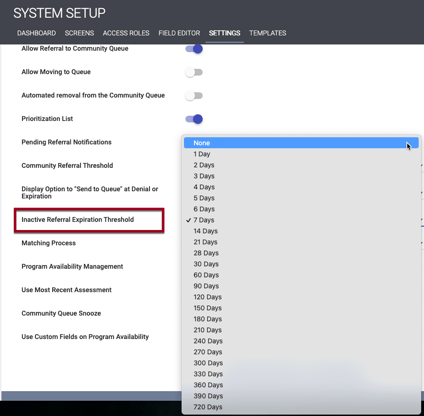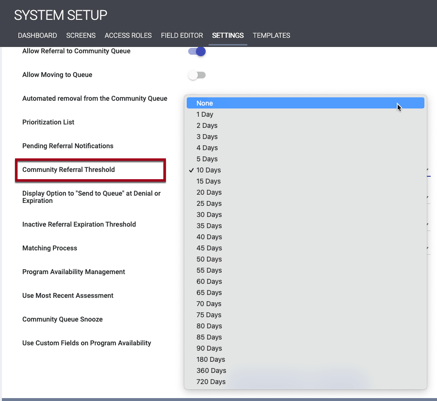 Required Action: None
Updated — When "Current Living Situation" is Used, Display Assessments Tab After Enrollment Screen
Overview: Currently, when you enroll a client into a Program, the Provide Services tab displays by default after the Enrollment screen is completed. However, since certain programs require completion of the Current Living Situation assessment upon enrollment, we are updating the logic to prompt the user to complete this assessment to avoid data quality issues.
With this update, for Programs where Program Assessments is enabled at the Program Setup level and where a "Current Living Situation" status screen is selected as the Additional Status Screen in the Template, the Assessments tab will be displayed after the Enrollment screen is completed.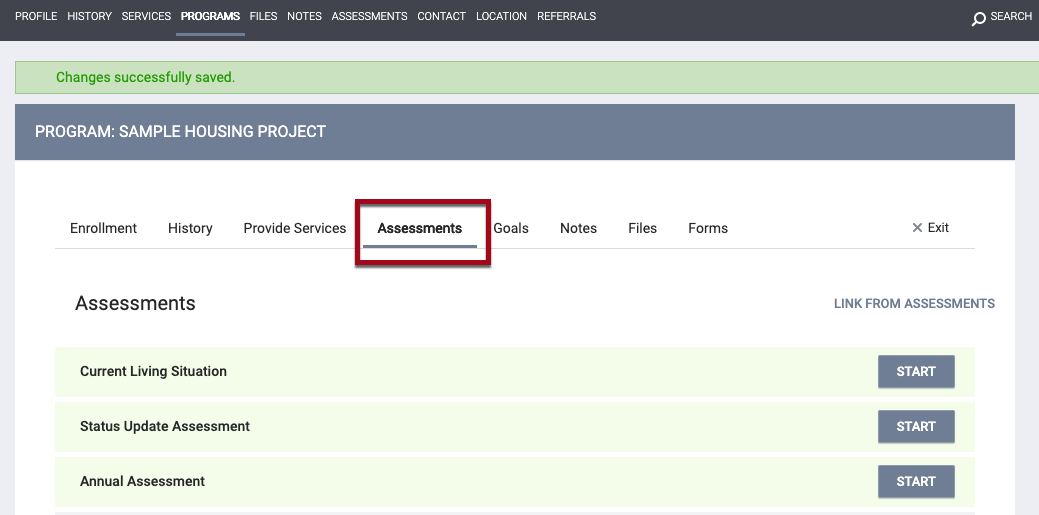 Required Action: None
New and Updated Help Center Resources
We've either updated or created the following articles in response to this Clarity Human Services update. To receive monthly emails on Help Center updates, follow the Clarity Human Services Feature Updates section.