The Outreach map can be filtered to view Individuals, Encampments, or both. Individuals in Outreach are client locations not contained in an encampment. "Individuals" are distinct from "Persons," which are client locations within an encampment. For more information about adding clients to an Encampment or directly to the map, please visit Persons in Encampments and Adding Individuals to the Outreach Map.
As explained in Introduction to Outreach, system administrators establish settings for each Continuum of Care (CoC) in Outreach Settings, specifying what types of locations populate the map. The most recent client location data from the Location tab, geolocation fields, and geolocation-enabled service items automatically populate Outreach, based on the CoC's Location Filters.
Notes:
The Individuals that display within Outreach are dependent on the CoC's Outreach Encampment Location Filters.
Locations in Client Profile screens are static (as opposed to the other locations in Outreach, which always display the most recent record). Consequently, if fields in Client Profile screens are used as "Geolocation Field Based" criteria for location filters, users should always update the client's current location in the Client Profile, even if they track it elsewhere.
Profile Info
To view Profile Info for a client location, click the Individual icon on the Outreach map.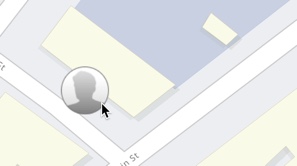 Click on the client icon to display a PROFILE INFO pop-up for the client.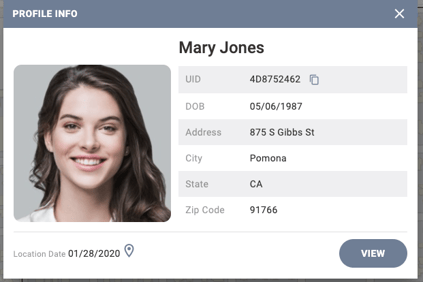 Click VIEW to open the client record in a new tab.
Click the icon next to Location Date to open the LOCATION tab in the client record.
Multiple Individuals in Same Location View
When two or more clients have a location at the same address on the map, the Individual marker shows the number of clients.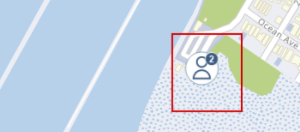 Clicking the Individual marker displays a Profiles Info pop-up, which lists information for all clients with locations at the address.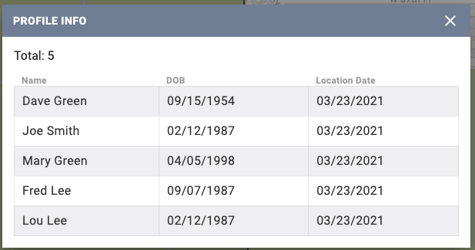 Clicking on any record in the list displays the Profile Info pop-up for the Individual.
Housed/Sheltered/Deceased Labels
The system displays a label for a client who is considered Housed/Sheltered/Deceased according to specific system parameters. For more information, please visit System Advanced Options: Outreach.