Service Items represent unique units of a service that can be recorded in a client record. Services are created at the agency level and configured to be recorded either within program enrollments, as stand-alone services from the agency, or both.
Agency-Level Services (Stand-Alone Services)
In the client record, navigate to the SERVICES tab. A list of service items will be displayed.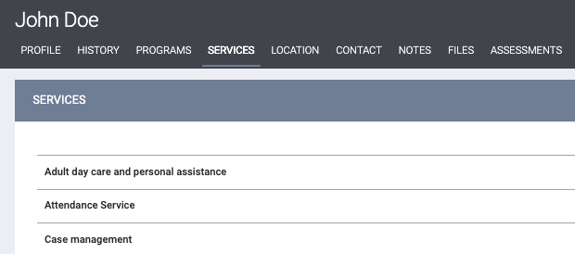 Accessing Service Items from an Enrollment (Program Services)
To access service items within an enrollment, the enrollment must be active (an exit has not been recorded for the enrollment). Service items can either be recorded during the enrollment process or after enrollment (but before exit) by accessing the enrollment and clicking the edit icon from the History tab or Program History. Service items are recorded from the Provide Services tab within the enrollment.

Note: The ability to record service items within another agency's program enrollment is controlled by that program's Cross Agency Service setting.
Recording Service Items
To record a service item, click the arrow next to the Category of the service item. Additional service item configuration options will display.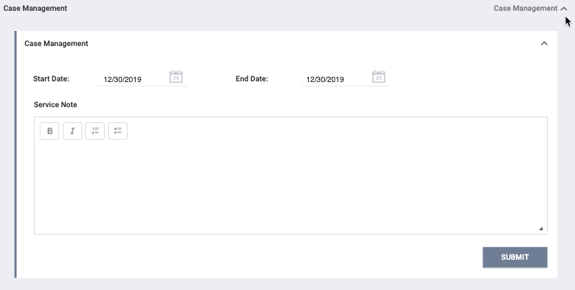 All service items have a date field or fields and Service Note field. Service items configured with a "Long Term" or "Daily Attendance" Delivery Type will have a Start and End Date. Service items with a Delivery Type of "Multiple Attendance" or "Single Event" have just one date field, which will be recorded as both the Start and End Date for the service item.
If the service item is configured with Group Placement Options, the service item can be recorded to other household members' records.

There are additional fields that may display with a service item, depending on how the service item is configured. These additional options include fields for:
Funding
Time Tracking
Accounts
Employment
Reservation Management
Funding Options
Some service items will include fields for funding information, including Expense Amount, Expense Date, and Funding Source. The way these fields will be displayed depends on the service item's Funding configuration.
Expense Amount: either an adjustable or a pre-determined amount that cannot be modified, based on the Default Amount and Adjustable settings within the service item configuration
Expense Date: user-selected date associated with the funding source
Funding Source: an adjustable or automatically set funding source, based on the Automatically Charge and Adjustable settings within the service item configuration

If multiple household members are included, the funding information will either be recorded for all household members selected or just the household member whose record the service item is being recorded from, based on the Expense Type.
Time Tracking Options
Service items with a Service Category of "Case Management" that are configured to allow Time Tracking will display time tracking options. This feature allows you to keep track of how much time you've spent providing a service. When recording the service item, Time Tracking fields will be displayed; these fields will either be fixed or editable, based on the Tracking Time is Adjustable setting configured for the service item.

If the service item Delivery Type is configured as "Multiple Attendance", regardless of the service Category or Time Tracking Options, a Time field will display, allowing the time the service was provided to be recorded.
Reservation Options
For information about recording services with Reservation Options, see Making and Managing Reservations.
Automatic Service Placement
If Auto Service Placement is enabled for a program, service items will automatically be recorded within an enrollment when it's saved. The services that have been recorded will display in a popup after saving the enrollment.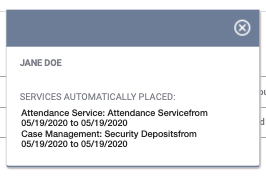 Finally, service items that were initially recorded as stand-alone service items can be "linked" to a Program enrollment.
Viewing and Editing Service Items
Once a service item has been recorded in a client record, it will display in the client record HISTORY tab and, if the service item was recorded within an enrollment, the Program level History tab.
Note that Attendance services have special configurations that can be edited in the client record history.