Housing Inventory Sites collect contact information about a project. However, unlike Administrative Sites, you can use Housing Inventory Sites to designate Buildings and Units within a Site and associate funding sources and eligibility criteria with the Site, Buildings, and Units.
Additionally, once you create Housing Inventory Sites, you can assign them to one program.
Note: If you assign a program at the Building level, the Unit Configuration Type will inherit the program. The ability to add a program to the Unit Configuration Type will become unavailable. If more than one program operates within the Building, do not set up the program at the Building level; instead, set up the program at the Unit Configuration Type level. You can only assign one program at a time to a Unit Configuration Type.
Managing Sites
To access the SITES tab for an agency, click the launchpad and navigate to MANAGE > SITES (ensure that you're in the correct agency for the sites you'd like to manage).


Sites are listed alphabetically by Site Name, but you can click the Status column header to sort by status if desired.
To create a new Housing Inventory Site, select Housing Inventory in the Site Categories sidebar. On the SITES page, click ADD NEW SITE.

Note: You cannot modify the Site Category (Administrative or Housing) once you create a Site.

Complete the fields in the ADD NEW HOUSING INVENTORY SITE screen.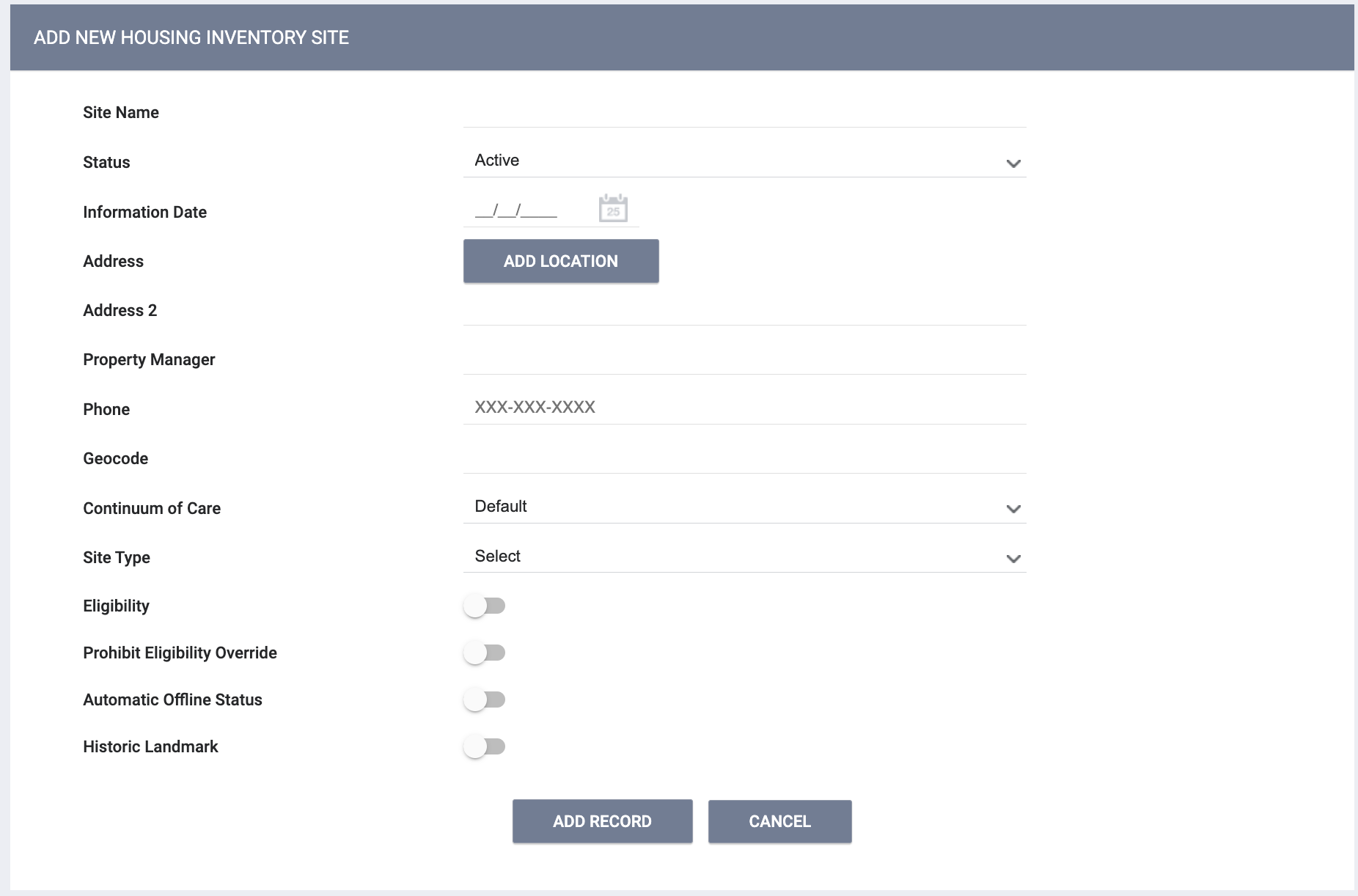 The Continuum of Care drop-down menu is populated by System Variables: Continuum of Care List.

The option you select for Site Type will impact the Site's configuration options, including whether you can add Buildings and Units to the Site.

When a "Standalone Unit" is selected and saved, it cannot be changed. Standalone Units do not have Buildings.

When "Single Site: Single Building," "Single Site: Multiple Buildings," or "Scattered Site: Multiple Buildings" is selected, a Buildings & Units section will display in the Site Resources sidebar.

Geocodes are published annually and are available on the HUD Exchange.

Once the Site is saved, the system displays a Geography Type field that populates automatically and is not editable. This information is based on the HUD Zip Code to Geography crosswalk.

You can associate Eligibility criteria with a Site by turning on the Eligibility toggle. When this setting is enabled, the Eligibility section appears in Site Resources.
Note: When a Site is assigned a program with eligibility (either direct eligibility or eligibility inherited through a Funding Source assigned to the program), the Site's Eligibility toggle automatically toggles on and becomes greyed out. The same logic applies if a program is assigned to a Building or a Unit Configuration Type, and the current logic of inheritance (from Site > Building > Unit Configuration Type > Unit) still applies.
Turning on Prohibit Eligibility Override prevents users from overriding eligibility when searching for a Unit in this Site. Refer to Referral Settings: Overview for details.
Enabling Automatic Offline Status means that the system automatically creates an Offline status for a Unit/Bed when a client exits. Refer to Automatic Offline Status for details.
Custom Fields: System Administrators can add Housing Inventory Custom fields as appropriate, such as the Historic Landmark field shown in the example above. If desired, a Housing Inventory Custom field can be designated as a Field Marker to enable data to cascade to the level below it (from a Site screen to a Building screen, for example).
Site Resources
Clicking the Edit icon next to a Site on the Housing Inventory Sites screen displays the Overview for that Site, along with a Site Resources sidebar where you can make additional configurations. The current sections under Site Resources are Overview, Programs & Projects, Buildings & Units, Funding Sources, and Eligibility.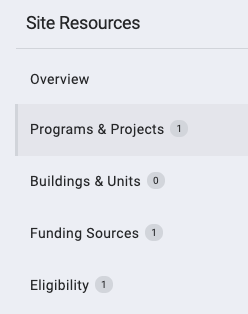 Overview
Clicking Overview in the sidebar displays the MODIFY HOUSING INVENTORY SITE screen. This screen contains the fields completed for the Site at creation, which you can modify at any time.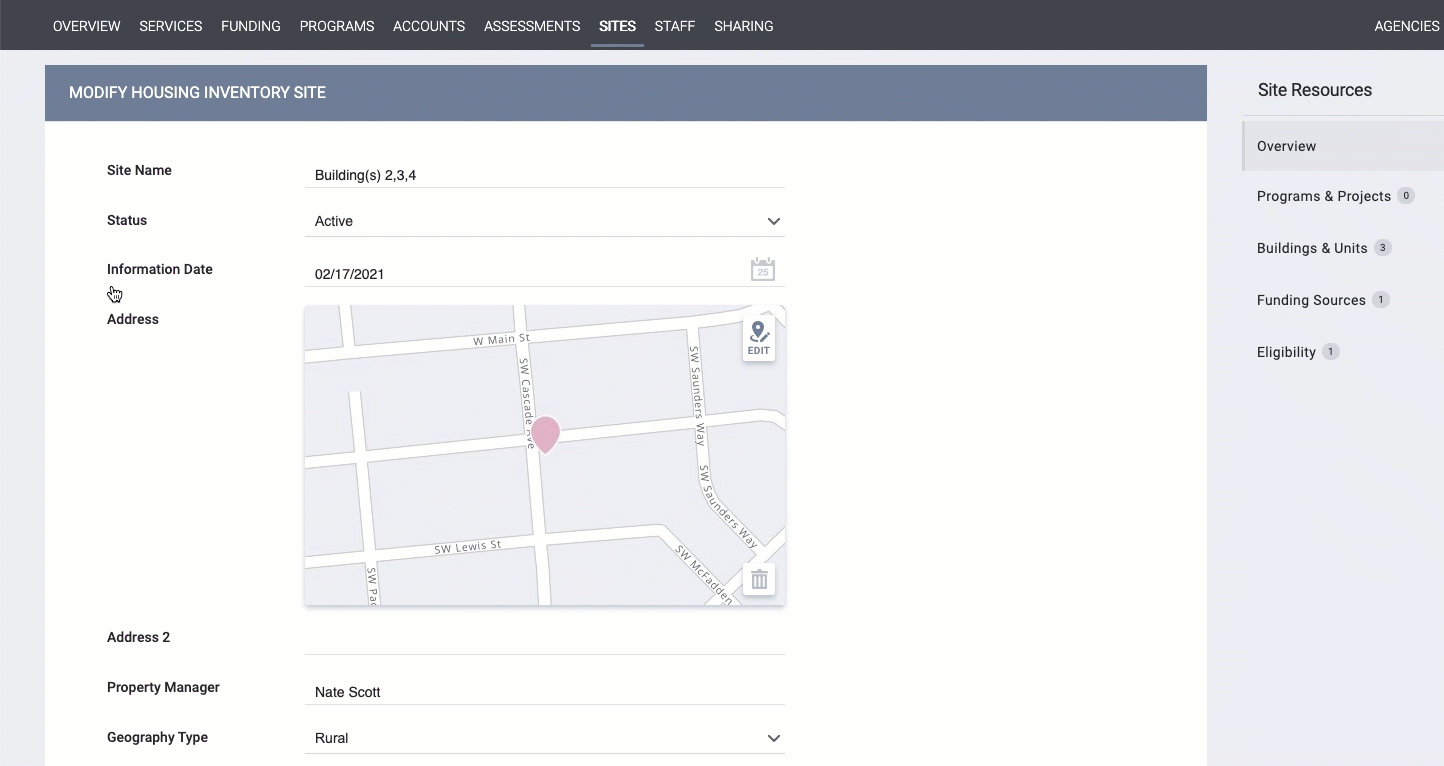 Programs & Projects
The Programs & Projects section of the sidebar displays any Programs assigned to a Site through the Site setup.
To assign a Program to a Site, click ADD NEW PROGRAM. The ADD PROGRAM pop-up appears.
Users with Agency Inventory - Add Agency Program enabled but not Agency Inventory - Add Any Agency Program will not see the Agency drop-down because they will only have access to associate a program from their own agency.
The following Program Types cannot be assigned to any level within SITES > Housing Inventory:
Services Only
Street Outreach
Other
Coordinated Entry
Day Shelter
Homeless Prevention
The Programs & Projects count shown in the sidebar only counts unique programs, not duplicates. For example, even though the image below shows five programs, the count shown in the sidebar (outlined in red) is "4"; the reason is that "Sample Program" is listed twice because it is assigned to two different Unit Configuration Types.


You will not be able to delete any programs that are listed as either a Current or Upcoming Unit Configuration Type of a Unit setup.
Buildings & Units
The Buildings & Units section of the sidebar displays any Buildings and Units created for the Site. If the Site is a Standalone Unit, this section won't be displayed. To add a new Building, click ADD NEW BUILDING.

Like Sites, Buildings can have eligibility criteria associated with them by toggling on Eligibility. Buildings inherit the eligibility criteria set at the Site level. So if you have an eligibility criterion such as (Age = above 17), that same eligibility criterion will automatically apply to the Building underneath the Site.
Funding Sources
To view or add Funding Sources for a Site, click the Funding Sources section of the sidebar. In the PROGRAM FUNDING section, you will see any active Funding Sources inherited from a Program assignment.
To associate Funding Sources with a Site, click ADD FUNDING SOURCE. The ADD FUNDING SOURCE window will display Funding Sources created from the Funding tab. Toggle on the desired Funding Sources, then click ADD.

The Assigned Level column indicates the level at which the funding source was added.
Eligibility
To associate eligibility criteria with a Site, click Eligibility in the sidebar, then click ADD REQUIREMENT.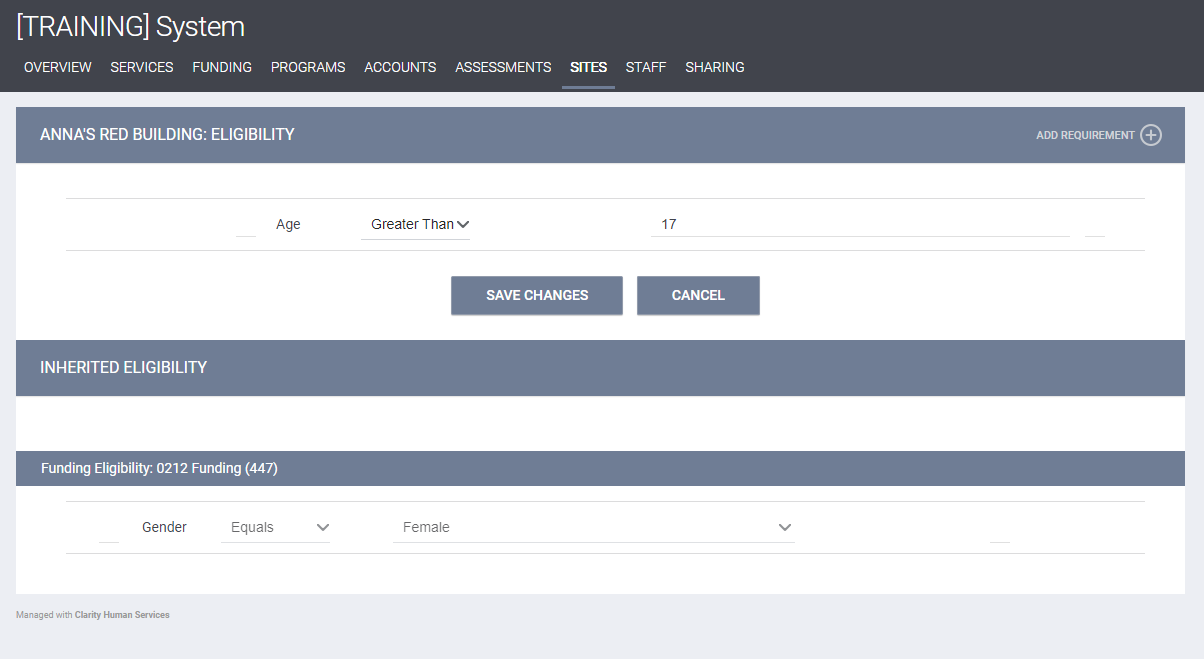 When you add eligibility criteria, you will also see any eligibility criteria inherited from the Site setup. Any eligibility you have set up under Funding Sources will also display, as shown in the image above.
You can hover the mouse over the information icon to display a tooltip showing the source(s) of inherited eligibility criteria. The listing will also include any eligibility inherited from assigned sub-grants.
Deleting Sites
To delete a Site, click the trash can icon next to the Site name on the SITES page.

However, before you can delete a Site, you must delete all of its Buildings; before you can delete a Building, you must delete all of its Unit Configuration Types; before you can delete a Unit Configuration Type, you must delete all of its Units. In other words, start by deleting Units first, then Unit Configuration Types, then Buildings, then Sites.
The system uses the following logic for the deletion of Sites, Buildings, Unit Configuration Types, and Units:
If all client interactions* affecting a Unit are deleted, then the Unit itself can be deleted.
If all client interactions associated with all Unit Configuration Types have been deleted, then the Unit Configuration Type can be deleted.
If all client interactions affecting all Units within a building are deleted, then the Building itself can be deleted, as long as there hasn't been any other client activity associated with the Building.
If all client interactions affecting all Buildings within a Site are deleted, then the Site can be deleted.
*" Client interactions" are any of the possible ways a client could interact with a Unit, such as referrals and enrollment.
Inventory Screens
System administrators cannot create additional Housing Inventory screens. However, they can modify the default screen to add fields as well as Labels and Warnings, if desired. To edit these screens, follow the same procedures you would when modifying any other screen type.
When the same field is added to these screens, the data can cascade down from one screen to another. For example, if a Site screen has the same custom field as a Building screen, the data that a user enters for the Site will cascade to any buildings set up within that Site.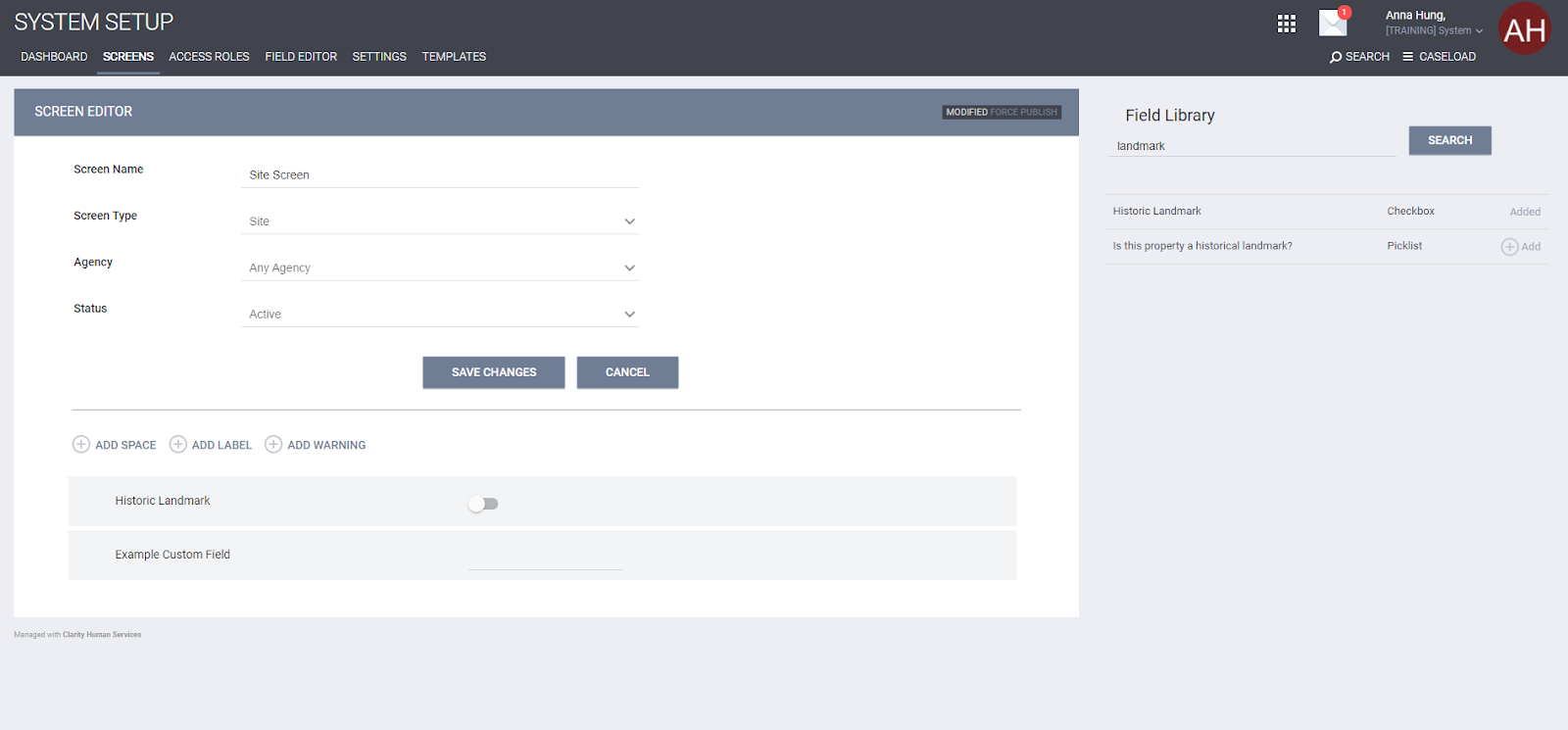 Audit Logs
Once you create a Site, you can find an Audit Log to the right of the SAVE CHANGES button. Click on Audit Log to view changes made to the Site.


Updated: 1/31/2023