The Navigation Profiles feature allows system administrators to control the display and order arrangement of the tabs in a client record for an agency. Once configured, the Navigation Profile can then be assigned to an agency.
To learn how to assign the new Navigation Profile to an agency, please refer to Introduction to Creating and Maintaining Agencies.
Note: even if not enabled in the Navigation Profile assigned to an agency, the Files, Notes, Assessments, and Services tabs can still be made available to individual programs within the agency.
Accessing the Navigation Profiles Settings
To access the Navigation Profile settings, click the Launchpad, and navigate to SETUP > SETTINGS > Advanced Options > Navigation Profiles.

Creating a Navigation Profile
To create a new Navigation Profile, click ADD NAVIGATION PROFILE. This will take you to the ADD NAVIGATION PROFILE page, where you can enter the title of the new Navigation Profile. Click the ADD RECORD button to save the record for configuration.

Once the record has been created, a NAVIGATION TABS section will appear. Initially, all options will be available for view in a system default order.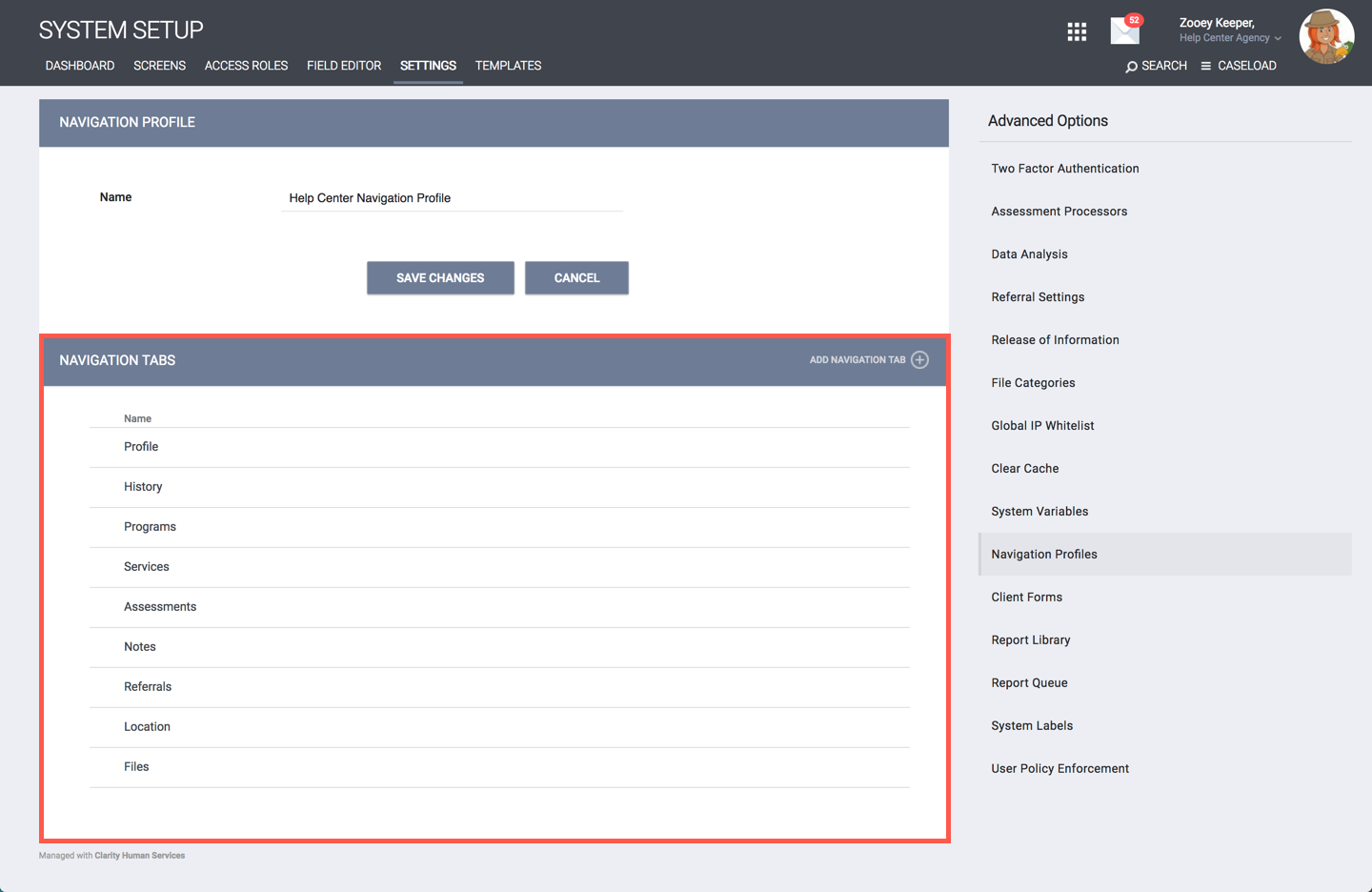 Modifying The Order of Tabs
The tabs within a Navigation Profile can be modified using a drag and drop technique. Hover over the row you wish to reorder and click and drag it to the desired location in the list order.
The tabs will appear in the client profile based on the first to last order of the tabs in the list displayed in the NAVIGATION TABS section.

Deleting Navigation Tabs
Click the trash can icon next to a tab you do not want in the Navigation Profile. The remaining tabs will be the tabs that appear on the user's screen.
Adding Navigation Tabs
To add a navigation tab back into the new Navigation Profile, click Add Navigation Tab.
A pop-up screen will appear, and you can select the desired navigation tab to add.