In Clarity Human Services, an Agency represents an entity that is operating one or more programs. It is inclusive of organizations, defined in the HMIS Data Standards as "organizations operating one or more projects that enter data into HMIS, as well as any residential continuum projects not participating in HMIS". Programs, staff members, and all client data exist within the framework of agencies.
In contrast to system setup, where setting configurations impact the entire system (all agencies and staff), agency management settings are specific to a single agency.
The manage section can be accessed by clicking the Launchpad icon, then clicking MANAGE > AGENCIES.

At this point, you can create a new agency, modify an existing agency, or switch to another agency.
Note: Only system administrators can search all system agencies and create new agencies.
Searching for an Agency
You can search for an agency using the search bar at the top of the screen. You can narrow your search by selecting an agency status from the drop-down menu. When searching for an agency, system administrators within systems with multiple CoCs can further target their search using the CoC sort criteria.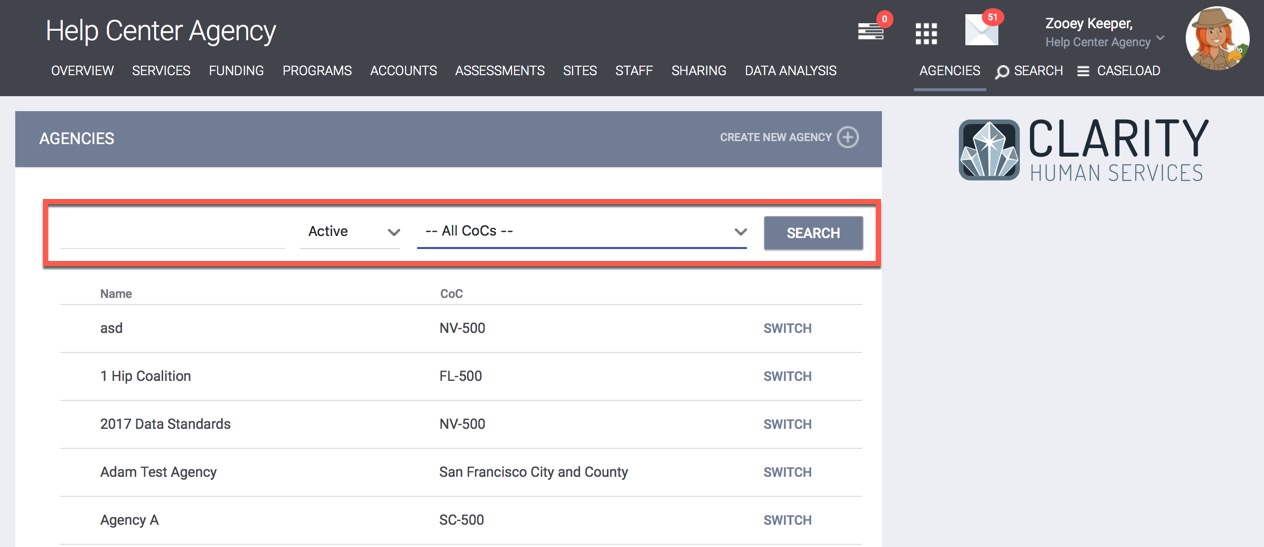 Note: Clicking the edit icon will only allow you to edit the agency's Overview. To modify any other components of the agency you must click SWITCH.

To create a new agency, select CREATE NEW AGENCY. (Be sure to first search for the agency, to avoid creating duplicates.)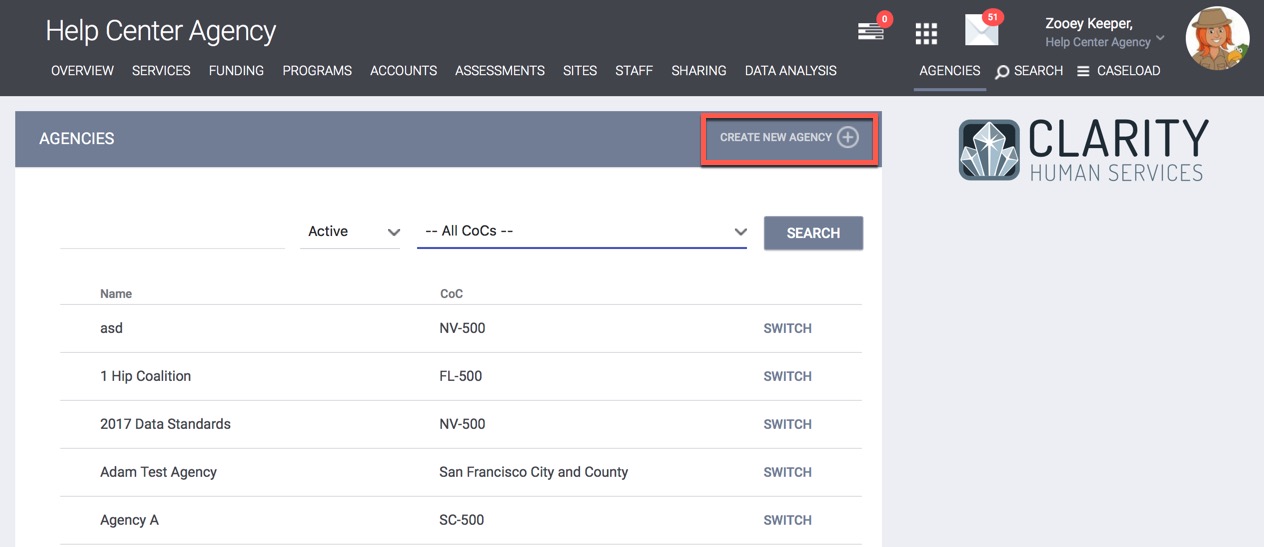 This will take you to the CREATE A NEW AGENCY page, which contains the fields in the agency OVERVIEW tab.
Agency Name: the name of the agency.
Note: The Agency Name cannot contain the < symbol (e.g., "<Test Agency").
Alias: In addition to a legal name for the agency, you can now record a common name (or alias). Agencies are searchable by both their legal name as well as their alias.
Agency Type: Select one of the following options:
Common: The standard agency type in Clarity Human Services.
Informational: An agency that may have a different purpose than the Common counterpart.
Informational Agency use cases

The ability to add unstaffed agencies with Programs and Services needed for reporting.
You need to report on an agency, but the staff won't be using HMIS.
You need a temporary placeholder.
This may be a good use case for a training agency.
Informational Agency considerations

You cannot add staff directly to this type.
Staff can access the agency through Additional Agency Access.
Informational Agencies will be hidden from the Inbox messaging and Client Profile page.
Agency Notification Contacts, Default User Home Screen, Open Units Report, and Dashboard on the Agency Overview page aren't available.
Data Analysis and Explore aren't available with this type.
Conversion

Informational to Common

Standard setup fees will apply.
Subscription Details count the total Programs regardless of Agency Type.
Common Agencies count toward Agency Seats in Subscription Details.
Common to Informational

All staff will need to be removed from a Common agency before the Agency Type option is visible in Agency Overview.
Any Agency Notification Contact or Responsible Staff Members are deleted when converting an agency.


Agency Address Information: agency address, city, state, county, and zip code. This information will be used when creating maps and directions to your agency for users.
Geocode: the geocode for the agency. Geocodes are updated annually and available on the HUD Exchange. Note: address and geocode information are used to create the default Site. After an agency is initially saved, the geocode does not display in the Overview.
Continuum of Care: Continuum of Care associated with the agency. Continuum of Care information is maintained by system administrators in System Variables.
Status: an "Active" agency is one that is currently collecting data or providing services. An "Inactive" agency is one that is not actively serving clients and/or collecting data. You can select "Inactive" if you wish to save the agency information for a later date.
Default Profile: the default Client Profile staff members will see when accessing a client record (this can be modified at the staff member level). The dropdown menu includes all screens configured by system administrators as Profile Screens.
Victim Service Provider: toggle on if the agency provides victim services.
Enable All Client Forms: determines the Form Templates available to staff members and for program configuration. For more information, see Enabling Forms for Agencies and Programs.

Staff Inventory Access: controls the ability for an agency's users to access the Units display on the Unit Queue tab. This setting provides a picklist with three options:

"Agency": The agency's users will only be able to see Units in that agency. This is the default selection for this picklist.
"Coordinated Entry Type": The agency's users will be able to see all Units in either the CoC or the Primary Sharing Group, depending on the system's Coordinated Entry Type setting.
"System": The agency's users will be able to see all Units in the system.
Click ADD RECORD to finish creating the new agency.
Note: after you click ADD RECORD, additional fields will display. Be sure to configure these before leaving the Overview.
These additional fields will display after saving the agency:
Navigation Profile: defines what client record sections are available to the agency. Navigation Profiles are maintained by system administrators.
Default User Home Screen: either the Client Search page or a Dashboard. Selecting "Dashboard" will display all available Dashboards in the system. If selected, staff members will be navigated to this dashboard upon login rather than the Client Search page (they will still be able to navigate to the Client Search page). This can be modified at the staff member level.
Open Units Report: defines the report that will display in the Open Units tab of the Global Referrals tab (if applicable). Available options are based on reports saved to the "program openings" subspace in Standalone Data Analysis.
Primary Coordinated Entry Group: this field will display if Coordinated Entry Type is set as "Sharing Groups Based" in System Setup Settings. The options available will be based on the Sharing Groups made available to the agency.
Agency Notification Contacts
Here you can enter the names of staff members who should receive notifications for actions such as generating reports and other alerts. You can search by username or email address or username. In the Settings configuration, you can select whether the staff member should receive referral notifications or not (if applicable).