Clarity Human Services offers two ways to refer a client directly to a program (i.e. without using the Community Queue or Unit Queue):
Direct referrals made from the REFERRALS tab allow users to refer clients to specific programs, regardless of program availability or if the client meets eligibility criteria.
Note: Certain configurations must be in place in order for a program to display as a referral option. See Introduction to Making Referrals for more information.

To create a referral from the REFERRALS tab, navigate to the client record, and click the REFERRALS tab. You'll see two options for referral methods: BY AGENCY or BY PROGRAM CATEGORY.

Refer By Agency
Select BY AGENCY if you want to refer the client to a specific Program. Selecting the agency from the dropdown menu will generate a list of Programs (regardless of eligibility) within that agency.

You can narrow the search by Program Availability. Program availability is managed in the Global REFERRALS tab.
Refer By Program Category
Select BY PROGRAM CATEGORY if you want to refer the client to a type of Program (e.g. permanent housing, emergency shelter, etc.). Selecting a Program category from the dropdown menu will generate a list of all Programs across agencies that match the Program type and Program availability.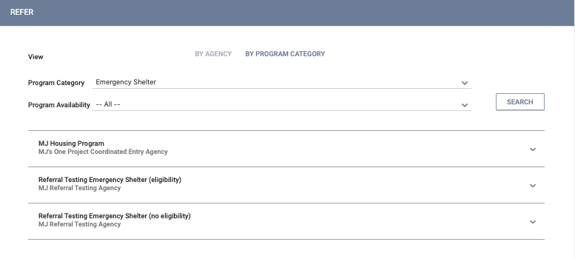 Regardless of whether you select BY AGENCY or BY PROGRAM CATEGORY, the remaining steps of generating a referral will be the same.
Program Referral Details
After you select one of the View options and click SEARCH, select the expand icon for the Program to which you would like to refer the client.

Program details, including available openings based on bed and unit information on the program setup screen, will be displayed.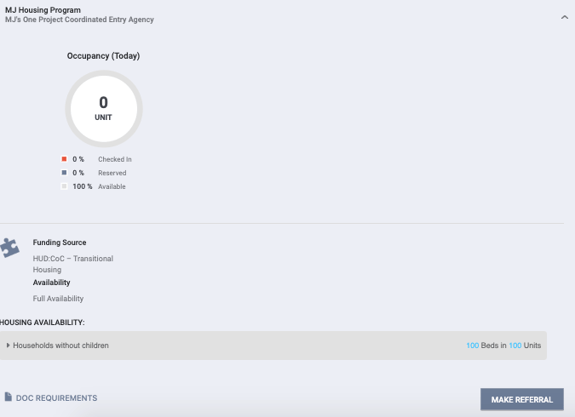 Clicking DOC REQUIREMENTS will display in a separate window any documentation requirements configured in Agency Management for the program (if applicable).
Click MAKE REFERRAL.
Send Referral
After clicking MAKE REFERRAL, you can review the details of the referral (referred Program, referred-to agency, and referring agency) and make additional configurations before sending the referral, including making a reservation. Information about these and other referral configuration options can be found in Editing Referrals.
Note: The referral will not be sent until you click SEND REFERRAL.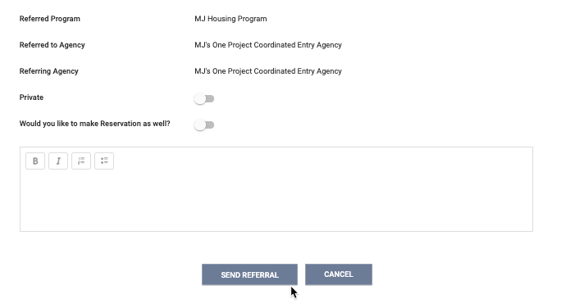 Once you click SEND REFERRAL, the referral will be saved in the client record. Notification to the referred-to agency will depend on the system Referral Settings. You'll be directed to Referral: Edit where you'll have additional referral configuration options.
Updated: 5/5/2023