Files, Notes, and Contacts
Working with Forms in the Client Record
Uploading a Client Form
To upload a client form, click ADD FORM. After completing the form, click SAVE to return to the FILES tab.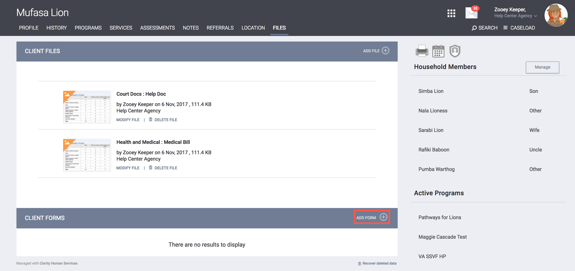 A pop-up box will appear listing the form options for your particular agency. Click on the form you require from the list, then click ADD. Selecting an option will automatically bring up the form associated with that option.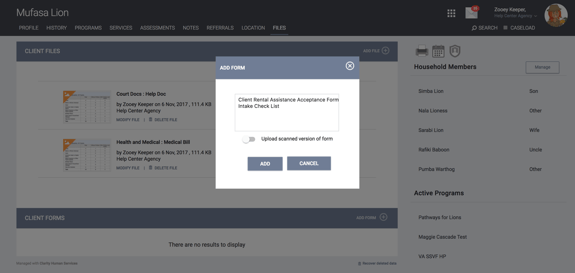 Creating an Electronic Signature
Some forms require a client signature. Clarity Human Services has electronic signature capability. After selecting the appropriate form from the dropdown menu in the pop-up box, select OK. The form will appear.
The electronic signature can be created with a computer mouse or finger pad. In the field, the client can use their finger to create their signature on the mobile device. If needed, you can select RESET to redo the signature. You will not be able to save the form until a signature is applied to the electronic signature field.

Note: After adding a signature, you must click APPLY to save the form.
Uploading a Scanned Document
The process for uploading a scanned document is similar to that of uploading a client file. Select ADD FORM and toggle on Upload scanned version of form.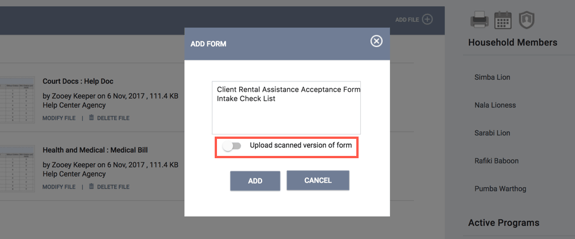 The ADD SCANNED FORM page will appear. Here you can Select File, or if your system is not compatible with the advanced upload, you can choose the Basic Uploader. After selecting the appropriate file, click ADD RECORD.