Recording and Managing Referrals in the Client Record
Referral Connections
The REFERRAL CONNECTIONS section of a referral indicates whether the referral has resulted in a Program enrollment. You can add Referral Connections in two ways:
Automatically: When you enroll a client or household in a Program, you will see a "Program Placement a result of Referral provided by (referring agency)" toggle if there is an open referral to the Program.

If this toggle is enabled, clicking ENROLL will automatically close the open referral. The system records an end date for the open referral, and the enrollment information appears in the Referral Connections section.
Manually: You can use this option after a client has been enrolled in a program to indicate that pending referrals can be closed.
Notes:
The ability to add a connection manually within a referral by clicking Add Connection is only available to users at agencies where the client has a program enrollment. Only programs in which the client has an enrollment will allow a referral connection.
Only the enrollment of the current client (not any members of the client's household) will be linked to the referral.

Within the pending referral, click ADD CONNECTION.

From the ADD A NEW CONNECTION pop-up, select the referral connection Program enrollment.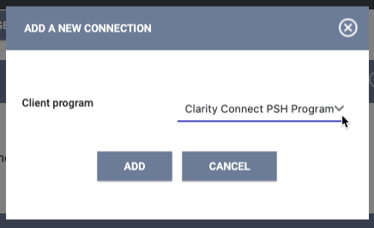 Note: Deleting a referral connection will not delete the associated enrollment and vice versa. If both an enrollment and a referral connection need to be deleted, you will need to delete them separately.