Program Setup: Documentation Requirements
Overview
Documentation Requirements allow administrators to designate what files are required by the program. When a client is enrolled in or referred to a program, staff members will be able to print a list of these required files.
Note: Documentation Requirements will not prevent a client from enrolling in or being referred to a program. This setting simply provides an option to print requirements.
Setting Up Documentation Requirements
To manage a Program's required files, click Documentation Requirements on the sidebar of the MODIFY PROGRAM page. Click ADD DOCUMENT.

The ADD A NEW CLIENT FILE pop-up will display, providing a menu of file categories and associated documents to choose from. The options that display are established in File Categories by system administrators.
Select the required document and click ADD. Repeat the process, as needed, for each file.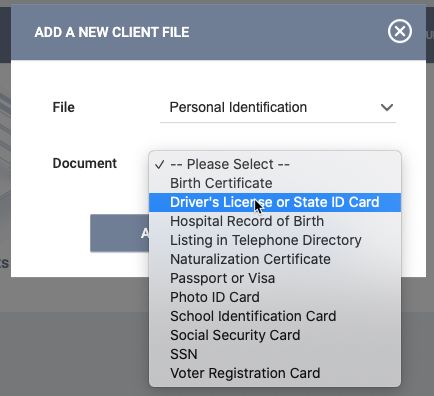 Documentation Requirements at Enrollment
When you enroll a client in a program that has documentation requirements, you will see a DOC REQUIREMENTS link when you expand the Program's details from the Programs tab in the client record.

Clicking this link will open, in a new tab, a PDF file that will list the requirements defined in the Documentation Requirements section for the program.

Documentation Requirements at Referral
When referring a client to a program, either from the Referrals tab or the Assessments tab, the same DOC REQUIREMENTS link will display.

Note: Documentation Requirements can also be set up by system administrators in Program Templates using Automated Provisioning.