Program Setup: Auto Service Placement
The Auto Service Placement feature automatically records services to a client record immediately upon their enrollment into a program.
To set up Auto Service Placement for a program, navigate to the Modify Program page for the Program. Scroll down to the Auto Service Placement field and toggle the switch to enable the feature.

After clicking SAVE CHANGES, you will have access to the Auto Service Placement section in the Program Resources sidebar.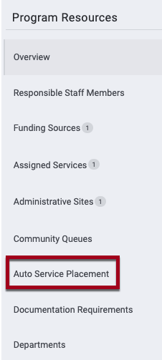 Click ADD NEW SERVICE.

The ADD A NEW SERVICE PLACEMENT pop-up will appear, listing available services for your Program (all services made available to the Program will display). Select the service you wish for clients to be automatically provided upon enrollment. After choosing the service, click ADD.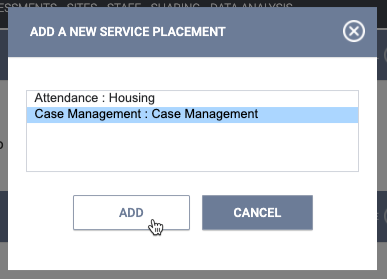 Next, enter the number of days you would like the service to be offered, if applicable. You can select up to 31 days. After the days expire, an end date will be added to the service.