The Auto Service Placement feature automatically records services to a client record immediately upon their enrollment into a program.
To set up Auto Service Placement for a program, navigate to the Modify Program page for the program. Scroll down to the Auto Service Placement field and toggle the switch to enable the feature.

After clicking SAVE CHANGES, you will see the Auto Service Placement section in the Program Resources sidebar.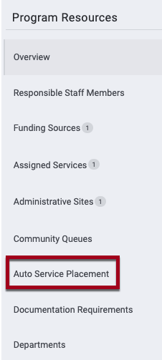 Click ADD NEW SERVICE.

The ADD A NEW SERVICE PLACEMENT pop-up will appear, listing all services made available to the program. Select the service you want to provide automatically for clients upon enrollment. After choosing the service, click ADD.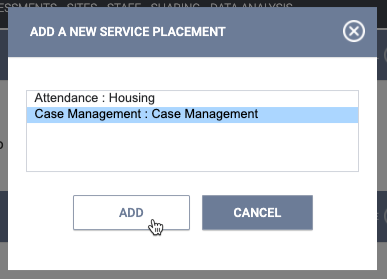 The service will now appear in the AUTO SERVICE PLACEMENT section.
In the Service Term field, enter the number of days you would like the service to be offered, if applicable. After the days expire, the system will add an end date to the service.

If the Service Term for a Multiple Attendance service is more than one day, the system automatically creates a service record within the client program with the number of days specified in the Service Term field.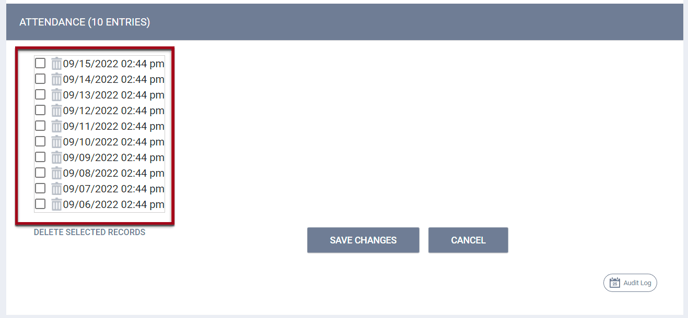 Connecting Attendance Services to a New Enrollment
If a client is exited from a program with attendance services that extended past the exit date, and then a new enrollment is created in that same program that started before those services ended, the services are assigned so that the services from the original enrollment end on the day before the services for the new enrollment begin.
For example, consider Enrollment 1 for a program with attendance services from June 1 to June 10.
Enrollment 1 is exited on June 4.
On June 8, Enrollment 2 is created for the same program.
The Auto Service Placement services for Enrollment 2 begin on the Enrollment 2 Start Date, so the services will be assigned as follows:
Updated: 5/2/2023