Overview
Sometimes individual clients or households will request that their data not be shared in Clarity Human Services outside of the agency serving them. When this occurs, and the agency is configured to share data with other agencies, you can make the client record (or its components) private.
In addition to making the client record itself private, the following components of the client record can be made private:
Location records
Contact records
Notes
Files
Assessments
Service items
Program enrollments
Referrals
Coordinated Entry Events
Notes:
System administrators can see all client data even if it is marked as private.
Only staff members assigned to or switched into the agency where the data was recorded can edit the privacy of data.
When a client record or component of the record is made private, only staff members who have the creating agency as their home agency (or as the agency they are switched into) will be able to see the information.
Making the Client Record Private
Click the Client Privacy shield icon in the upper right-hand corner of the client record.



Note: Only users with the Privacy access right can see the Client Privacy shield icon.
On the PRIVACY page, select "Private" for the Client Privacy setting, then click SAVE CHANGES.

The record will now be private and will not appear in search results for staff members at other agencies.
Note that you cannot set client records to "Private" if they include services recorded by multiple agencies.
Making Location, Contact, Notes, Files, Service Items, and Referrals Private
When recording or editing client location, contact, notes, files, service items, or referrals, you may mark them as private by turning on the Private setting.

Notes:
This setting will only affect the privacy of the item for which Private is turned on.
You can only turn on privacy for services when editing (not creating) the service.
For referrals, only the referred-to agency can set a referral to private.
You can mark an item as Private regardless of the Sharing Setting ("Full Shared," "Basic Shared," or "Not Shared") associated with that item.
Making Program Enrollments Private
To make a program enrollment private, navigate to the enrollment in the client record and click the edit icon next to Assigned Staff.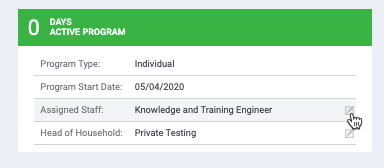 Toggle on Make Program Private.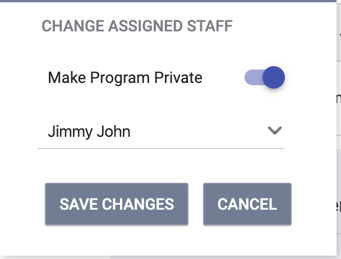 The enrollment will be private and will not display to outside staff on either the HISTORY or PROGRAMS tabs. The enrolling staff member (Assigned Staff) will not be visible to outside staff. Making an enrollment private also makes all program-level services, notes, files, forms, and assessments private.
Changes to the Make Program Private setting will be tracked in the program enrollment Audit Log.

Updated: 5/30/2023