Background
The Continuum of Care Program Interim Rule (24 CFR Part 578), first published in the Federal Register in 2012, establishes that communities receiving funding through the U.S. Department of Housing and Urban Development (HUD) Continuum of Care program, in consultation with HUD Emergency Solutions Grants program recipients within the geographic area, must establish and operate either a centralized or coordinated assessment system.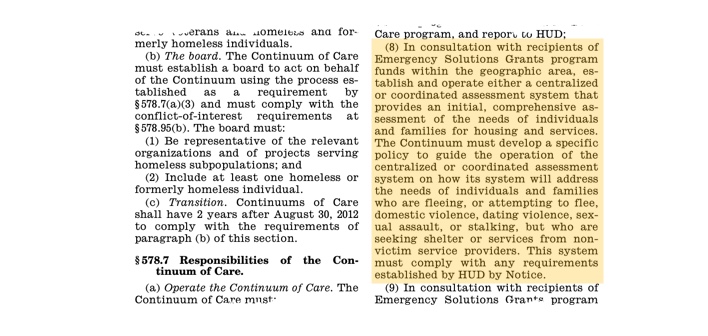 Excerpt from 24 CFR Part 578
According to the rule, that system must provide an initial, comprehensive assessment of the needs of individuals and families for housing and services and coordinate program participant intake assessment and provision of referrals. HUD began using the terms "coordinated entry" and "coordinated entry process" in its 2015 Coordinated Entry Policy Brief.
In 2017, HUD issued Notice CPD-17-01: Notice Establishing Additional Requirements for a Continuum of Care Centralized or Coordinated Assessment System. This notice established additional coordinated entry requirements, including standardized prioritization in the referral process, low-barrier access to emergency services, and assessor training protocols. HUD has published several other resources to assist communities in developing a coordinated entry process, including Coordinated Entry and Victim Service Providers FAQs, Coordinated Entry and Youth FAQs, Coordinated Entry and HMIS FAQs, Coordinated Entry Guidebook, Coordinated Entry Self-Assessment, and Coordinated Entry Core Elements.
While HUD has provided rules, guidance, and a general framework for communities to develop their local coordinated entry processes, they've also granted a certain degree of flexibility, as long as a community processes comply with established rules and regulations. Consequently, a variety of assessments, tools, and systems have been developed nationwide to facilitate coordinated entry.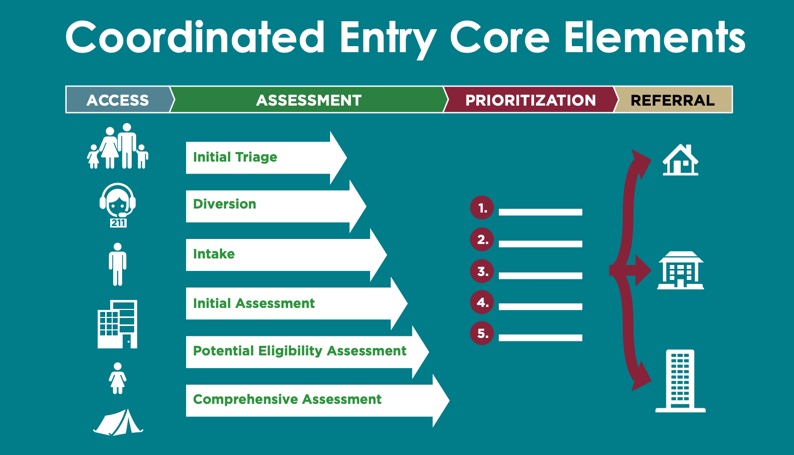 "Coordinated Entry Core Elements" from HUD's 2017 Coordinated Entry Guidebook
HMIS Participation Requirements
Neither the Interim Rule nor Notice CPD-17-01 include requirements around communities' use of HMIS for their Coordinated Entry process. However, in the Notice and elsewhere HUD encourages its use.
In 2019, HUD published the 2020 HMIS Data Standards. These data standards included three new data elements required to be collected by Continuum of Care program-funded Coordinated Entry (SSO-CE) projects: Coordinated Entry Assessment, Coordinated Entry Event, and Current Living Situation. In HUD's New Coordinated Entry Data Elements, HUD explains that, regardless of whether a CoC has an SSO-CE project, "all CoCs are strongly encouraged to collect CE data using these standardized elements." Additionally, the collection of this data will be necessary for reporting in the forthcoming HUD Coordinated Entry APR.
Coordinated Entry in Clarity Human Services
In response to the variety of ways communities have implemented Coordinated Entry and based on best practices, Bitfocus has developed and continues to refine a versatile set of tools to assess for, refer to, and connect individuals and families with housing resources. These tools are designed to be flexible enough to use with some of the most common coordinated entry processes as well as local, custom tools.
The Referrals and Community Queue features within Clarity Human Services provide communities with ways to manage the referral process from initial assessment to housing placement. System administrators wishing to learn more about setting up referrals and Community Queues should review the articles in the Configuring Referrals and Community Queues section of the Help Center. End-Users can learn more about these features by reviewing Working with the Referrals Tab and Community Queues and Recording and Managing Referrals in the Client Record.

Before and during setting up your community's Coordinated Entry process in Clarity Human Services, we recommend reviewing our Coordinated Entry Data Standards Readiness Assessment. This tool will help you determine how your community's Coordinated Entry model should be implemented in Clarity Human Services.
The following resources will help guide you through the process of implementing the HUD HMIS Coordinated Entry Data Standards in Clarity Human Services: