Creating and Editing Access Roles
What is an Access Role?
When you assign access roles to staff members, you designate what data and capabilities they can access. Before you assign an access role, you must first create it and define its associated capabilities.
At times you may need to create a specific access role. For example, you may need a role for volunteers who perform data entry only. In that case, you might create a role called "Limited Access" that provides access to only the system components those users need to access.
The Access Roles tab features two columns: Role Name and Staff. The Role Name column lists all of the access roles by their titles. The Staff column indicates how many staff members are assigned that role.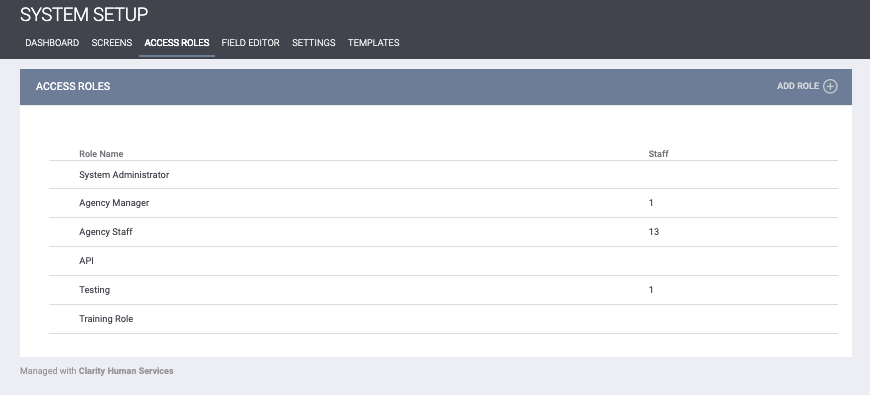 Creating An Access Role
To create a new Access Role, click the launchpad icon, and click Setup. Click the ACCESS ROLES tab and click ADD ROLE.

In the ADD NEW ACCESS ROLE section, provide a name for the new role and select an Access Role Type.

Once you've named the role and selected a type, you will see a series of configuration options for the new role. Turn on the appropriate options for this role.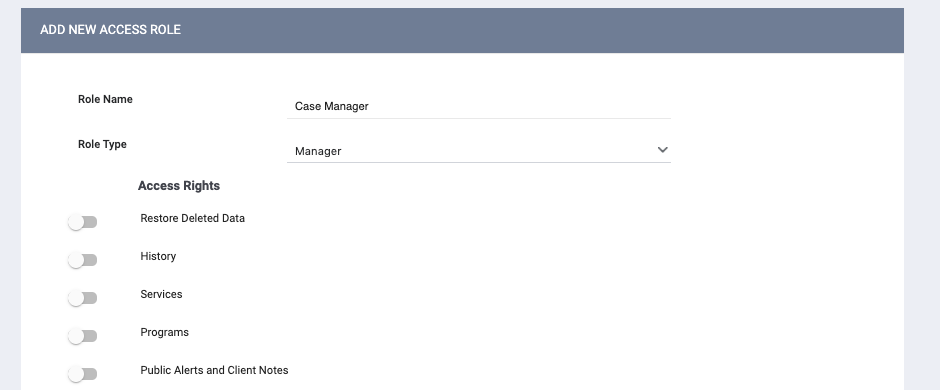 Once you've completed configuring the access role, click SAVE CHANGES.
Note: Once you save an Access Role, the Role Type for that Access Role will become read-only.
Editing Access Roles
To edit an existing Access Role, hover over the access role you want to modify and click the edit icon.