Map Layers allow users to view map layer overlays within Outreach, the Location tab, and when adding a client location.
System administrators can add and customize groups of Map Layers by navigating to SETUP > SETTINGS, clicking Location and Outreach in the Advanced Options sidebar, selecting a CoC to edit, and scrolling to the MAP LAYERS section.
Continuum of Care Map Layer Group
By default, each CoC has a Continuum of Care (CoC) Map Layer Group. System administrators cannot modify or delete the CoC Map Layer Group's boundaries. All CoCs are listed in the MAP LAYERS section. System administrators can modify the display color for each CoC area by clicking the color box icon for the CoC.

Adding a New Map Layer Group
To add a new Map Layer Group, click ADD NEW GROUP.

The ADD NEW GROUP page appears. Click UPLOAD A FILE.

The UPLOAD NEW GROUP FILE page appears.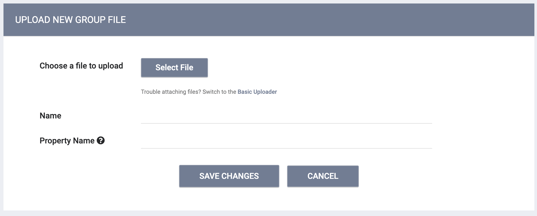 Click Select File and select a GeoJSON file to upload.
Enter a Name for the Map Layer Group.
The Property Name field pertains to the naming of each layer in the group.

The GeoJSON files used in creating Map Layers contain "properties" (such as "name," "color," "description," etc). When a GeoJSON file is uploaded, the system will look for the "name" property and assign that value for each layer as the name of that layer.

If the file does not have a "name" property, use the Property Name field to enter the property you would like to use as the Map Layer name. The Property Name entered should match a property name within the file being uploaded. For example, if the GeoJSON file does not have the "name" property but does have a "county" property, you could enter "county" in the Property Name field so that each layer would be named with that layer's value for "county."

Click SAVE CHANGES.
Note: The maximum file size for each layer is 20MB, and the file must be in GeoJSON format. Accepted geometry types are Polygon and MultiPolygon. Click here for more detailed information about the GeoJSON format,

Modifying Map Layers
To change the display color for a Map Layer, click the color box for that layer and select the desired color.

To modify a Map Layer, click the Edit icon next to the layer.

The map layer displays tools for reshaping the layer's boundaries.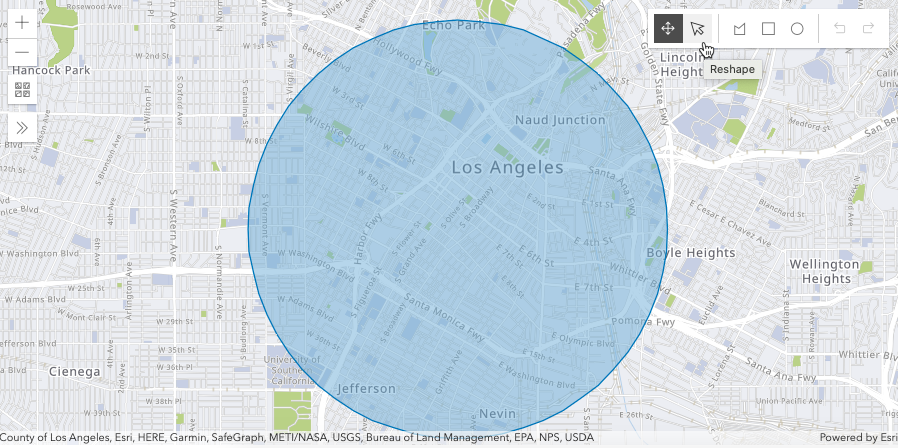 You can also manually draw or upload new map layers within a group by clicking ADD NEW BOUNDARY.

Setting a map layer as "Inactive" prevents the corresponding boundaries from displaying in Outreach. To make a map layer inactive, click the edit icon beside the layer name.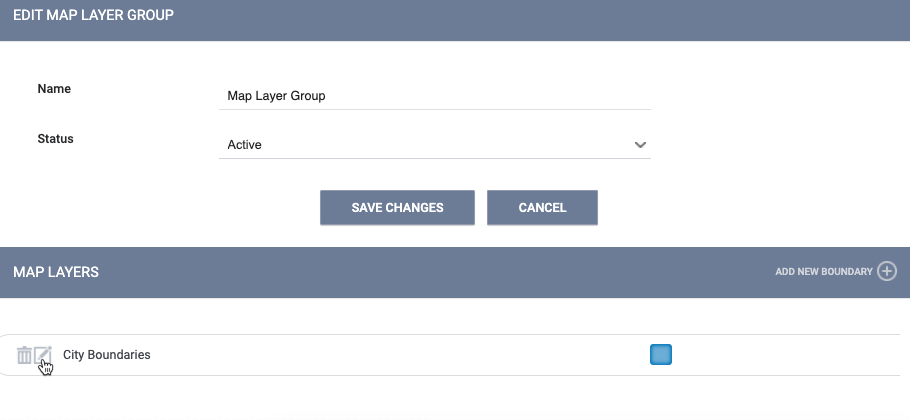 Set the Status as "Inactive" and click SAVE CHANGES.

Map layers configured for the CoC can be toggled on by users in the Outreach Data Filter.