Agency Exceptions
The way an Agency shares client data with other Agencies in Clarity Human Services is defined by that Agency's Default and Sharing Group settings. As discussed in Sharing Groups, an Agency can share with all other Agencies in a uniform manner, or share with groups of Agencies in different ways, by adding Sharing Groups.
Sometimes an Agency will share data with a group of Agencies in a Sharing Group but will share data differently with one or more Agencies in that Group. System Administrators can use Agency Exceptions to accommodate this.
To add an Agency Exception, first ensure you are switched into the Agency that the exception will be added to.
Click ADD EXCEPTION in the AGENCY EXCEPTIONS section of an Agency's Sharing settings.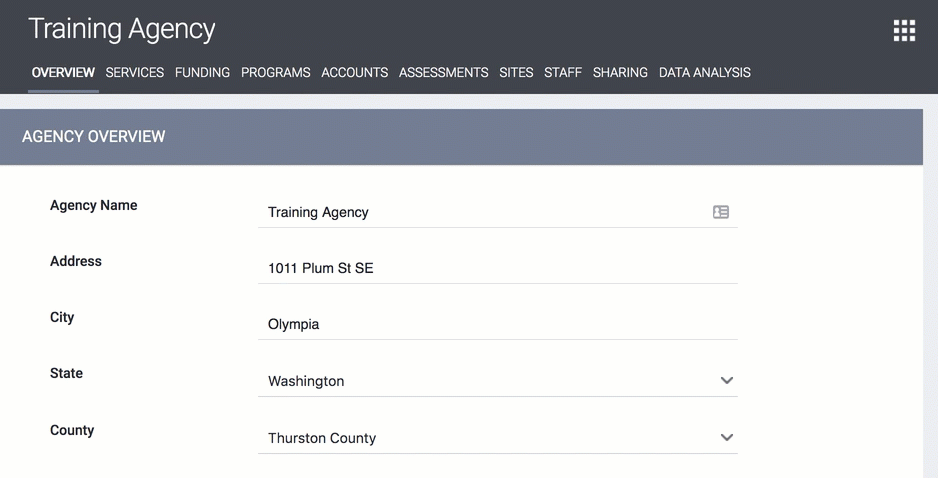 From the Agency drop-down menu, select the Agency with which data will be shared differently than it is shared within Sharing Groups. Staff Members at the Agency selected in the Agency drop-down menu will view data entered by Staff Members at the Agency being configured based on the selections made for each following record component. Select the desired sharing settings for the record components and click ADD RECORD.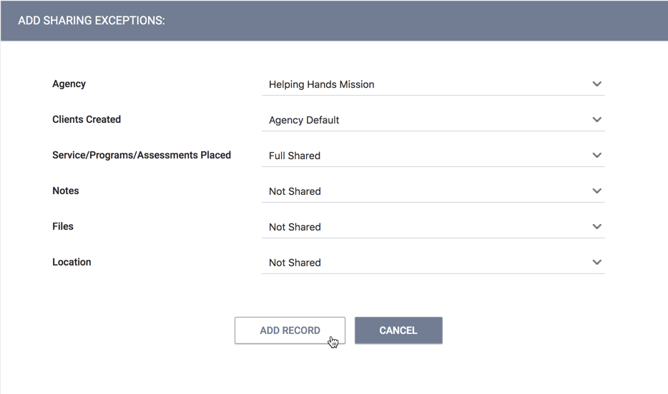 Once the exception has been added, the sharing settings configured in the Agency Exception will override the sharing settings established in Sharing Groups.
If an exception is later removed, it will no longer apply, even if it was in place when the data was initially recorded.
Note that Agency Exceptions cannot be used to override the Clients Created sharing settings.
Up Next: Sharing Departments