The Clarity Human Services Help Widget allows users to access Help Center content and connect with our Technical Support team directly within Clarity Human Services.
The Help Widget can be enabled and disabled by system administrators. Click the launchpad and navigate to SETUP> SETTINGS and toggle on Enable Technical Support Widget.


When the widget is enabled, you will see the widget icon in the lower right corner of the screen throughout Clarity Human Services.

Note: the Help Widget is not available on training sites.

Click the icon to open the widget.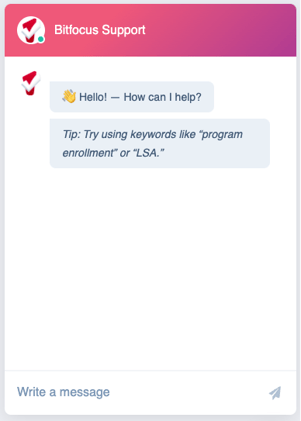 Enter the desired topic in the Write a message field. For example, in the image below, we are searching for information on "Pending referrals."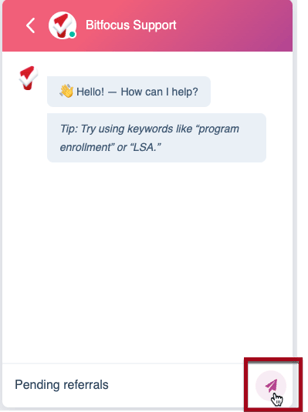 Click the Send icon in the lower right. The widget will look for relevant articles in the Help Center, then display a response.
If the Help Center has articles that are relevant to your search, the widget will display links to those articles. Clicking a link will open the associated article in a separate tab.


If the Help Center does not have any relevant articles, the widget will respond with "Unfortunately I couldn't find anything."
The widget will then ask you if your question has been answered. Click Yes or No.

If you click Yes, the widget will end the chat.
If you click No, the widget will connect you directly with a Technical Support team member to discuss your question. You may also upload file attachments if applicable. At the conclusion of your chat, you will receive a transcript of the chat via email.

Our Technical Support staff are available during the hours of 5 am-5 pm PT. If you submit a request outside of that time, an agent will respond to your request as soon as possible during operating hours.


To view your chat history, click the arrow in the upper left corner of the widget.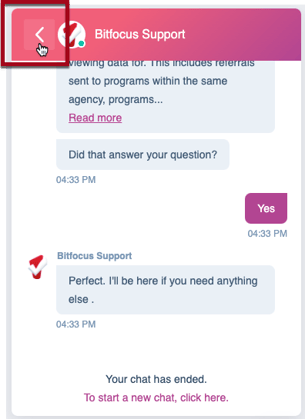 To exit the widget, click the X in the lower right corner of the screen.

The next time you open the widget, you will see your chat history. Click the pencil icon in the upper right corner to initiate a new search.