System Variables: Service Taxonomy
Overview
Service Taxonomy allows administrators to create custom categories that can be applied to service items. Service Taxonomy is set up at the system level and applied at the service item (or agency) level. Any given service item can have multiple taxonomy classifications.
Because these system-level custom categories are applied at the service item level, administrators can pull reports about service items that belong to the same custom category, even if those service items are not within the same program or even the same agency. Services Taxonomy can be looked at as a means of "tagging" service items, with the intent of using that "tag" for reporting.
Additionally, Service Taxonomy classifications allow service item names to be changed without affecting reports based on taxonomy.
Setting Up Taxonomy Items
Click the launchpad and navigate to SETUP > SETTINGS > Advanced Options > System Variables .

Scroll to Service Taxonomy and click Add Category.

Name the Category and click SAVE CHANGES.

Next, you'll add items to the category.

You can add up to 10 items at once. Type in a code and name for each item and click ADD.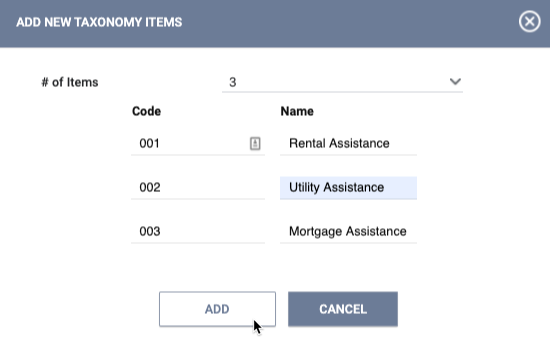 Once taxonomy items are configured in system settings, they can then be added to service items.