System Variables: Continuum of Care List
There are several places throughout Clarity Human Services where system administrators select a continuum of care (CoC) from a drop-down menu, including agency and program configuration, sites, and system setup. The continuums of care that populate that drop-down menu are managed in System Setup.
Note: the CoC field is viewable in FIELD EDITOR, but is not editable.

To manage the Continuum of Care List, click the launchpad and navigate to SETUP > SETTINGS > System Variables and click on the Continuum of Care List tab.

Any active selections from the CoC field in FIELD EDITOR will populate the list. If a selection was previously deleted in FIELD EDITOR but has client data associated with it, it will display in the Missing Continuum of Care List. The CoCs can be restored (and renamed if needed) by clicking the plus icon.

To add a new CoC, click Add New Continuum of Care.

Provide a name and description and click ADD RECORD.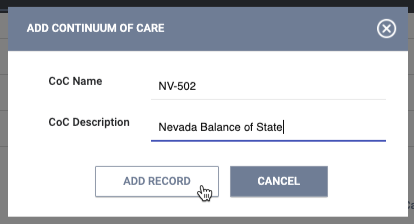 If an existing CoC has client-level demographic and/or agency/program level data associated with it, or if the CoC is being used in Referral Settings, it cannot be modified or deleted.