Description
Type of Report
This is an Agency Management report with Staff/User Activity information.
Purpose of the Report
Provide program management with a record of Staff/User client record activity in Clarity Human Services. The report returns the following:
Sorted by Staff/User, selected in the parameters, including Staff/Users without activity
Data Type (type of activity)

Profile Created
Profile Edited
Program Enrollment
Program Status Update
Program Current Living Situation
Program Annual Update
Program Exit
Program Follow-up
Client Note
Client File
Client Location
Referral
Assessment
Service Provided/Updated
Client ROI
Client Contact Created
Client Contact Edited

Client Name
Unique Identifier
Date/Time the activity occurred in Clarity, sorted by most recent to oldest
The report includes the history of staff deleting records such as profiles, enrollments, services, etc.
Running the Report
Report Location
This report is found in the Agency Management section of the Report Library.
Who Can Run the Report
Anyone can run the report but the returned information will be limited based on the access rights of the user.
Parameters
The following prompts are required to run the report.
Parameter

Description

Staff(s)

Choose which staff members(s) to include:

All
Single select for a single staff member
Ctrl, ⌘ or Shift select for multiple staff members

Note: Staff member options are limited to the agency running the report.

Data Type(s)

Choose which data type(s) to include:

All
Single select for a single data type
Ctrl, ⌘ or Shift select for data types

For more information on the data type(s) specifications, please reference [STFF-104] Specification Details.

Deleted Option

Choose which deleted option to include:

Not Deleted
Deleted Only
All

Report Date Range

Specify the report start and end date. The staff activity pulled into this report will have happened during the reporting period

Report Output Format

The user can choose to format the report output as a Web Page, PDF or Zip with XLSX.

Note: If the report contains more than 40,000 rows, the Report Output Format will automatically be changed to Zip with XLSX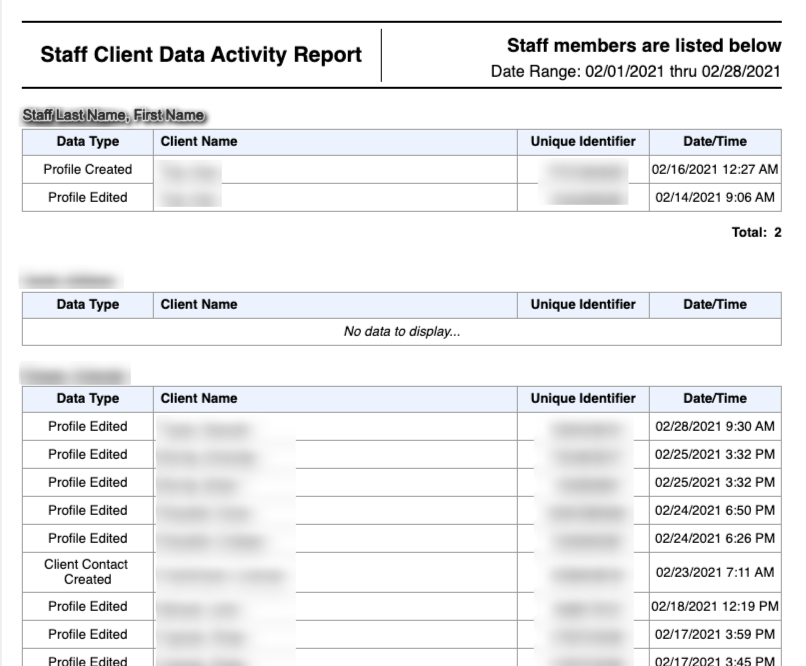 Specifications
The following is a high-level summary of the specifications.
Universe of Staff
Staff Status = Active
AND not deleted
AND (main staff agency = Current Agency OR staff is from other agency but has additional access to Current Agency)
Universe of Activities/Data Types
Based on parameter selection of Data Type, the universe will include
Data Type [Date Created, Updated or Deleted] >= Report Start Date
AND Data Type [Date Created, Updated or Deleted] <= Report End Date
AND if client is private, then the agency that added, updated or changed the profile must be the Current Agency
For a deeper dive into the specifications, refer to [STFF-104] Specification Details.
Updated 09/24/2021