Description
Type of Report
This is a referral-based report in which referrals were:
created within the reporting period or where any of the following activities during the reporting period:

Pending
Pending - In Process
Denied
Expired
Completed

created or changed status to Pending or Pending - In Process before the report start date and did not change during the reporting period.
Purpose
To provide aggregate counts of referrals, broken out by different statuses. In contrast to the Inbound report, this version reports on referrals that were created by the agency running the report.
Running the Report
Who Can Run the Report
All users can run the report. There are restrictions for which information can be accessed based on the rights of the user.
Report Location
The report can be found in the Community and Referrals section of the Report Library.
Parameters
Report Date Range - The date a referral was created or changed status
Report Output Format
Admin Version Additional Parameters
An admin version of the report is available. In addition to the above prompts, the admin version requires:
CoC - Choose which CoC to run the report
Specifications
Universe
Includes referrals, that have not been deleted, AND
created under the current agency AND
(for a program of the current agency OR
referred to a program of another agency) AND
(created within the report date range OR
have any of following activities: Pending, Pending - In Process, Denied, Expired, Completed - during the reporting period OR
created/changed status to Pending, Pending - In Process before the report start and did not change during the reporting period)
Report Will Include:
All referrals - Direct Referrals and Community Queue (Program Reassignments and Unit Queue Referrals)

Community Queue Reassignments - Program Reassignemens and Unit Queue Referrals are differentiated within separate columns/subtotals within the report tables and drill downs.
Definitions
[# of days] - is calculated as the difference between [last date] and [first date]


[first date] is:

for Direct Referrals - [referral date], the date the referral was created
for Referral from Community Queue - [reassigned date], the date the referral was reassigned to the program from the Community Queue

[last date] is:

For statuses "Pending" and "Pending - In Process" - [report end date]
For status "Completed" - [enroll date], the date referral was enrolled to the program

NOTE: If Referral Connection was added, the [enroll date] can be earlier than the referral's created date [referral date]

In this case, [# of days] will be negative

For statuses "Denied" and "Expired" - [end date], the date referral changed status to "Denied" or "Expired"
Report Will Exclude
Removed from Community Queue
Automatically Expired via Inactive Referral Expiration Threshold from Community Queue
Report Tables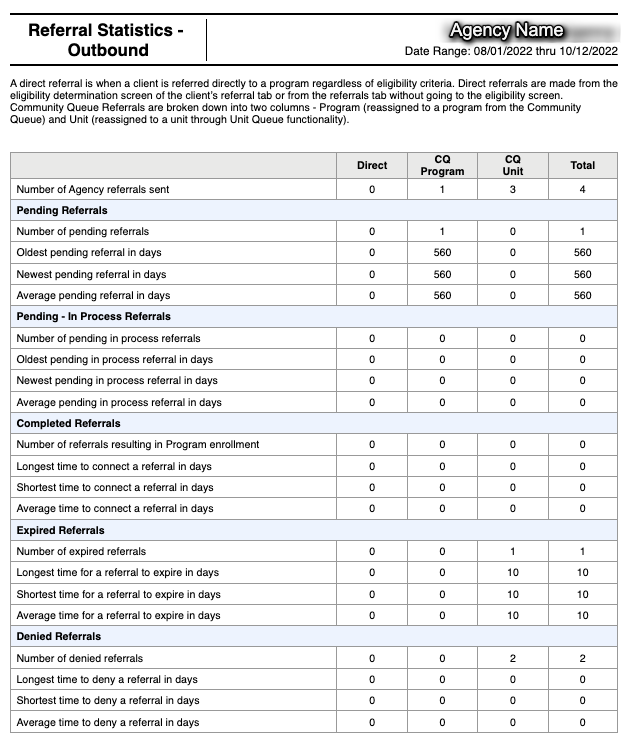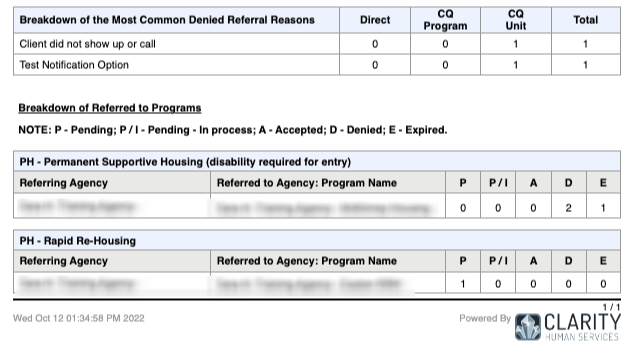 Drilldown Functionality
Drilldown functionality is available for this report.
Click on any count within the report table to see:
Referral Date
Unique Identifier
Client Name
Program Name

Program Name
Community Queue Name (if applicable)
From agency (referring agency)
To agency (referred agency)

Days Pending
Referral Type (Direct, CQ - Program, or CQ - Unit)
Total Referrals & Referral Type Subtotals
Unique ID fields contain links to the Client Profile Screen.
Updated: 10/12/2022