Report Purpose & Summary
This report provides client demographic details for selected services, for a specified time period, in a series of charts. For the report that is designed to collect demographic for programs, use [OUTS-106] Client Demographics. For a version of a service based demographic report that does not include charts, graphs, and figures use [OUTS-105-F] Client Demographics (Flat Version)
The information for this report comes from the client profile screen.
Running the Report
Who Can Run the Report
All users can run the report. There are restrictions on which information can be accessed based on the user's access rights.
Report Location
This report can be found in the following location in the Report Library:
Service Based Reports → [OUTS-105] Client Demographics
Parameters
The following parameters are required to run this report.
Service Status

All Services
Active Services
Inactive Services

Service: Service Item(s)

Choose which service item(s) to include:

All, Single Select, or Multi-Select (Hold Control/Command or Hold Shift to select multiple options sequentially.)

Veteran Status
Select All or a more specific option to narrow down the results.
Report Date Range
Choose the date range of services to include.
Report Output Format
Web Page, PDF, Excel
Report Details
This report provides demographic information for persons who received specified service(s) during specified periods of time.
More specifically, it provides details on the following:
Age Range
Gender
Race
Veteran Status (Adults Only)
Hispanic Ethnicity
SSN Validity
All of the data on this version of the demographic report is pulled from the client profile screen.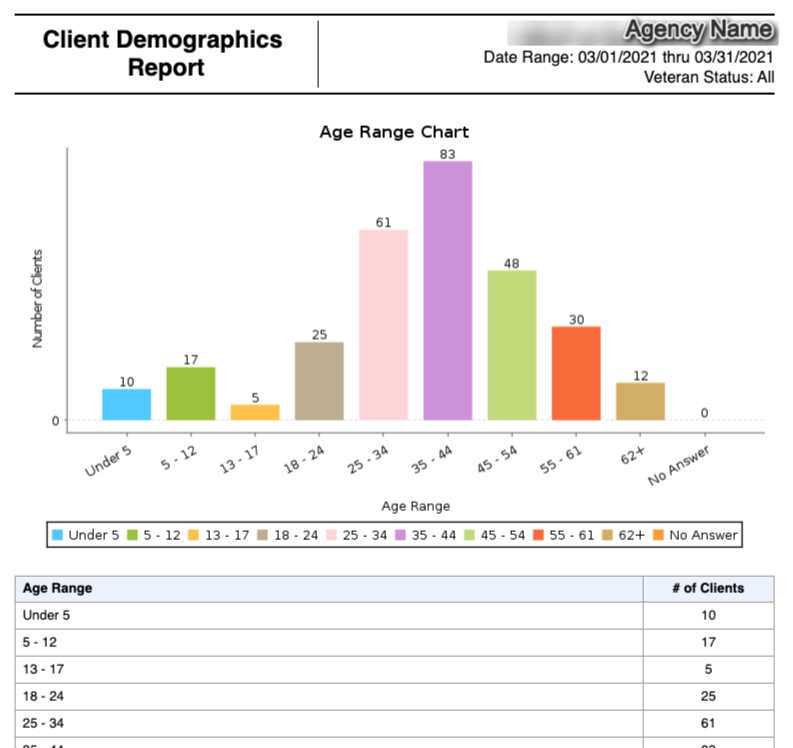 Drilldown Functionality
Each segment of this Client Demographics Report is equipped with drilldown functionality that enables the user to view specific client information associated with each element.
The user can view a list of clients that are included in this total. The user can view a list of clients that are included in drilldown total. The drilldown displays Unique Identifier, Name, Social Security Number, and Date of Birth. The Unique Identifier in the drilldown table links to the client's profile.

Updated 4/25/2023