Outreach Model: Quarterly Client Count in Encampments
Stakeholders and planning entities want to know how encampments have shifted on a quarterly basis. The Looks below contains a count of clients entering encampments and a percent of change on a quarterly basis.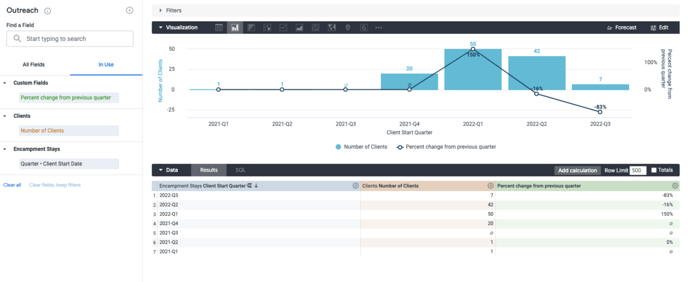 The steps below outline how to create this Look.
1. Explore
- Outreach Model
2. Fields
Add the following fields to the Look:
Encampment Stays – Quarter • Client Start Date
Clients – Number of Clients
% Change from Previous Row

Select the Gear icon in the Data Table next to the Clients Number of Clients Header
Hover over Calculations, then select % Change from Previous Row
The table calculation will appear under Custom Fields
Update the Name to Percent Change from Previous Quarter
3. Filters
Add the following fields as filters to the Look as needed:
Encampments – Name of Encampment: Set filter to specific Encampment Name
Encampment Stays – Client Start Quarter: Set range to fit reporting needs (I.e., is in year: 2022 for Calendar Year analysis for 2022, is not null if applicable, or is in the past 2 years for last complete year and current year)
4. Visualization
– Column
To update column visualizations to include bars and lines with values and left/right axes, complete the following steps.
Select Edit in the Visualization toolbar
Select Percent Change from Previous Quarter
Type: Line
Points: Circle
Toggle On Value Labels and Label Null Columns
Drag Percent Change from Previous Quarter to the Right Axes Section
Updated:09/08/2022