Outreach Model: Encampment Map by Client Count
A common use case of the Outreach Model will be creating maps to review encampments and unsheltered clients. The Look below shows a map of encampments with points that are proportional to the size of the encampment.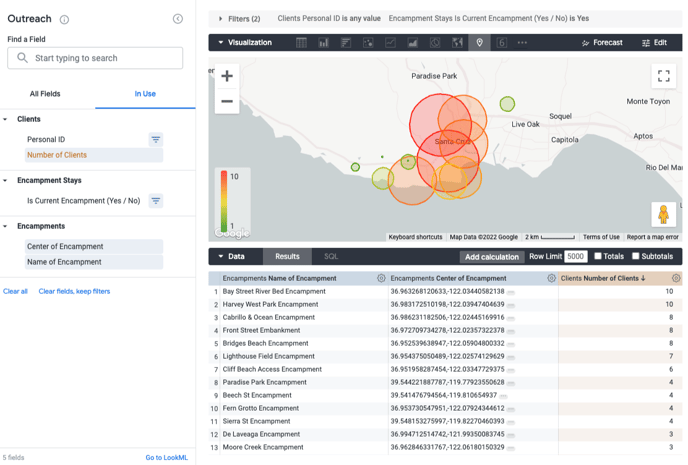 The steps below outline how to create this Look.
1. Explore
- Outreach Model
2. Fields
Add the following fields to the Look:
Dimensions

Encampments – Center of Encampment
Encampments – Name of Encampment

Measures

Clients – Number of Clients
3. Filters
Add the following fields as filters to the Look:
Encampment Stays – Is Current Encampment (Yes/No): is Yes
4. Visualization
– Google Maps
To update map visualizations to include density color-coding on map plot points, complete the following steps.
Select Edit in the Visualization toolbar
Select Plot
Adjust Map Position to best fit the reporting need
Custom Map Positions utilize Latitude, Longitude, and Zoom Level
Radius – Proportional to Value
Scale – Linear
Radius Units – Pixels
Marker Color Mode – Based on Value