Outreach Model: Client Specific Location/Encampment Review
Case Consultation groups and Street Outreach teams may be trying to locate an unsheltered individual to inform them of a new housing referral, need to complete case updates, or providing basic need services. The following Look generates a map with a specific client's locations and encampment information to help identify a client's general location.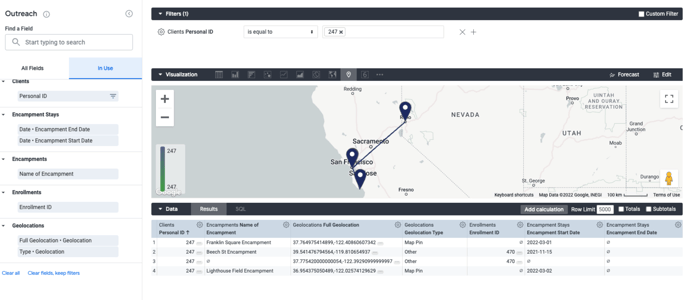 The steps below outline how to create this Look.
1. Explore
- Outreach Model
2. Fields
Add the following fields to the Look:
Clients – Personal ID
Encampment Stays – Date • Encampment Start Date
Encampment Stays – Date • Encampment End Date
Encampments – Name of Encampment
Enrollments – Enrollment ID
Geolocations – Full Geolocation • Geolocation
Geolocations – Type • Geolocation
3. Filters
Add the following fields as filters to the Look:
Clients – Personal ID, Full Name, or Unique Identifier: Set filter to specific client
4. Visualization
– Google Maps
To update map visualizations to include icons with lines connecting map plot points, complete the following steps.
Select Edit in the Visualization toolbar
Select Plot
Plot Mode - Connect with Lines
Icon - Default
Marker Color Mode – Based on Value
Note: The fields included in the data table of the Look will appear when hovering over any icon in the visualization.
Updated: 09/08/2022