2023 Updates
08/16/2023
During the monthly HUD System Admin meeting, HUD released the following information about LSA:
08/04/2023
Please stay tuned as we will be updating this section as we receive more information about the 2023 LSA submission.
---
2022 Updates
11/15/2022
The LSA Initial Upload deadline is approaching later this week (11/18/2022).
There are a handful of known issue at this time that are identified at the following sites:
There are no reported issues with the LSA report at this time but with the flags/interface in HDX.
10/31/2022
HDX opens for the initial LSA submission period. HUD sent out additional resources to aid in the LSA submission process.
In addition to the resources HUD has provided, there are additional resources listed below from Bitfocus.
Please reach out to our Bitfocus Support at support@bitfocus.com if any issues arise.
10/19/2022
A tentative LSA timeline has been released during the most recent HMIS Lead and System Administrator Webinar. The FY2022 LSA upload functionality will be supported in HDX2.0 as of 11/01/2022. Initial uploads are due by 11/18/2022.
The FY2021 LSA report will be retired and archived as of 10/31/2022 to align with the launch of HDX2.0.
The 2022 LSA Toolkit has been released as well as the FY2022 LSA report and updated LSA LookML dashboards to allow for preparation for the upcoming LSA reporting period.
This article will be updated throughout the LSA reporting period to share additional resources, troubleshooting guidance, and other helpful information.
---
2021 Updates
02/02/2022
Outstanding Error/Warning Issues was updated to include information about flags 1230, 1232, 1241 and 1246. These flags are now classified as warnings but a subset has been left classified as "Vendor Warnings". Clarification from the HDX team in relation to these flags/subflags is included below.
*Some LSA flags were re-classified from errors to warnings to give communities the opportunity to provide notes and explanations when necessary. A subset of these flags (1230, 1232, 1241, and 1246) have been left classified as "Vendor Warnings." However, that does not mean that every instance of these warnings requires a "fix" from vendors.

​These flags have groups of sub-flags that compare different population types (age, race, ethnicity, gender, etc.), and it is not possible currently to break out or separate these sub-flags into brand new flags by those individual populations.

Sub-flags that reference race, ethnicity, gender, and other "static" subpopulations may require vendor assistance for a CoC to resolve and could point to programming errors on the vendor side and research should be initiated by vendors for these particular sub-flags.

In some instances, this flag may not indicate an issue with the data. Sub-flags that reference age can trigger due to clients aging in and out of different household types during the reporting period. In this case, vendor resolution is not needed, nor are there changes needed to the data. Instead, the CoC can indicate that the data are accurate in their warning notes after confirming that the data are accurate.
01/07/2022
HUD has recently released two additional resources. The HMIS CSV Data Quality Tool has been updated to include overlapping enrollments. In addition, an LSA Common Flags Library resource was released that identifies some of the most common flags/issues Continuums of Care (CoCs) experience when working on their Longitudinal System Analysis submission and guidance on how to address these issues.
12/30/2021
HDX is currently experiencing technical issues with warning flags. The HDX team is currently working on these issues. Communities are advised to focus on errors until the warnings are available.
There is now a live site managed by the HDX team to address current and resolved error and warning issues. This information is available here - Outstanding Error/Warning Issues.
12/03/2021
HUD has released an updated timeline for the LSA reporting period.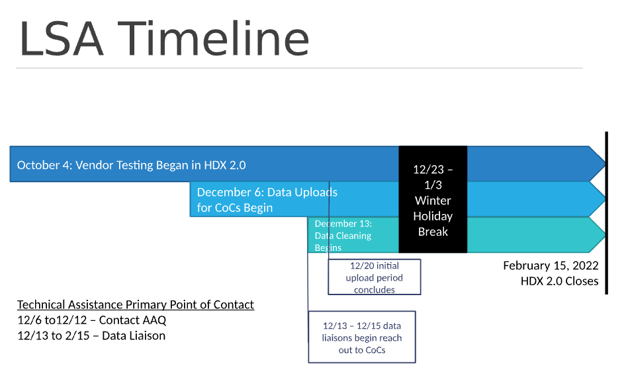 There are currently some issues with flags that we have reported to github to be resolved.
The current known issues are included in LSA Flag Errors/Known Issues - 2021 and will be updated as new issues are reported and resolved. As common errors are reported for community-specific issues/data quality flags, an additional tab will be added with guidance for these issues.
If you are facing issues unrelated to the known issues listed above, please contact Bitfocus support at support@bitfocus.com .
HUD has also released two updated LSA resources which are linked below.
11/22/2021
The FY2022 LSA Export has been released to the Clarity Report Library to all instances.
The report is located in two different locations:
Administrator Reports: [HUDX-231-AD] LSA Export - Systemwide [FY 2022]
HUD Reports: [HUDX-231] LSA Export - Project-Focused LSA [FY 2022]
Both reports have been released with the [in QA] label as we continue to work with HUD prior to the opening of HDX 2.0. Subsection 9.4 is in the midst of improvements and will be updated once concerns with the current specifications are addressed.
If you do not see the reports in your report library, please follow the steps below.
Note: The following process can only be completed by System Administrators.
Select the Launchpad icon, then Setup.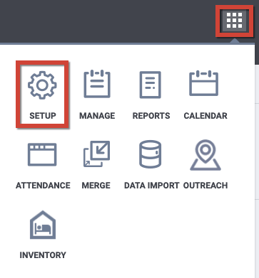 Select Settings, then Report Library (under Advanced Options).
Locate the [HUD-231] LSA Export reports under the HUD Reports or Administrator Reports sections.
Select the Edit icon to the left of the report title, then toggle the Active switch on and save changes.

11/18/2021
The LSA Export will be released on 11/22/2021 in the Clarity Report Library in the HUD Reports section. The long-anticipated LSA submittal process is currently set to begin on 11/29/2021.
Please note, the LSA Export can take up to 2 hours to generate.
The reporting team has worked diligently to ensure the export aligns with the HUD LSA Programming Specifications. At this time, the programming specifications have not yet been finalized or shared on the HUD Exchange, but the reporting team has worked with partners at HUD along the way to assist in the finalization of their current working draft. HMIS vendors have submitted over 800 issues to ensure the LSA export is coded properly and will run as expected.
The [HUDX-231-AD] LSA Quick Guide article provides guidance on how to generate and update the report. To aid in data preparation and submission of the LSA, the 2021 LSA Toolkit was released in October 2021. This toolkit provides guidance and resources for the upcoming LSA submission period. As common problems and the solutions for the LSA are identified, they will be included in this article (LSA FAQ/Troubleshooting).
NOTE: We are aware of some potential issues with HDX 2.0. During weekly LSA calls with HUD, we have been informed that there is an issue with flags. The current issues with flags will be resolved soon.
11/11/2021
The reporting team is continuing to work diligently to ensure that the Longitudinal System Analysis (LSA) export will be ready for the opening of the HDX. We are working daily with partners at HUD and other HMIS Vendors on weekly LSA-specific calls.
The LSA timeline was updated on October 14, 2021. HDX 2.0 is expected to open on November 22 for CoCs to begin data uploads. This article will be updated if any additional changes are made to the proposed timeline.
The 2021 LSA Toolkit was released in October 2021. This toolkit provides guidance and resources for the upcoming LSA submission period.
The resources included are:
Four LSA Data Cleanup Dashboards* to help dig into LSA errors/warnings and prepare data
2022 LSA Programming Specification updates and changes
LSA Help Desk Reminders
Quick Guides:

LSA Preparations
Bitfocus Guide for LSA Flags
FAQ on HUD Move-in Dates
*Dashboards are available to users with Data Analysis access.
As common problems and the solutions for the LSA are identified, these will be included in this article.
2020 Status Update
11/18/2020
Communities should now be receiving Flag files from their initial LSA submissions. To assist with resolving flags, Bitfocus has made a spreadsheet available for communicating the last known information.
This spreadsheet can also be used by communities to crowdsource strategies for solving data quality problems that cause some flags.
The basics for using this spreadsheet and more generally the HDX provided flag files:
Read the Instructions tab
Communities are responsible for solving flags on the Flags - CoC tab

Communities should follow instructions included in the flag file to try to resolve the issue
Only after trying to resolve the issue unsuccessfully, should communities reach out to the Bitfocus help desk

Bitfocus is actively working to resolve flags on the Flags - HMIS Vendor tab
The crowdsource spreadsheet can be found here.
10/19/2019 - Part 2
Two years worth of LSA must be accomplished this cycle. The report should be run two times:
10/01/2018-09/30/2019
10/01/2019-09/30/2020
Also, please refer to [HUDX-231-AD] LSA Quick Guide for more details on running the export report.
10/19/2020
The LSA export will be available on 10/19/2020. Prior to running the full report, Bitfocus recommends running [HUDX-236] LSA - Project Descriptor HDX Upload Test. There is also an Admin version of this report available.
This report can be used to prepare for HDX upload without running client data. The purpose is to identify project descriptor issues.
Run the report for the selected CoC
Upload to HDX per instructions received from HUD.
An error report will be returned in HDX:


---




---

Ignore the missing_files error, this is intentional because the client data was not run
Review and repair any project descriptor errors that are reported in the error report
Once all project descriptor errors are corrected, then run the main LSA report: [HUDX-231-AD] LSA Export - Systemwide [FY 2020].
A complete, initial upload, must be done by 10/30/2020. Additional coordination will be required with the community's AHAR representative.
10/6/2020
The long anticipated LSA submittal process is set to begin on 10/19. An updated timeline message went out from HUD on 10/1/2020.
Bitfocus has been working with other vendors and HUD TA to ensure the submittal process will be much smoother this year. We have been testing HDX with real data and checking the LSA validation flags for accuracy. Ideally, by the time communities begin uploading exports, the problems reported will be real problems with the data and need correcting locally.
8/21/2020
Yesterday, our partners at HUD confirmed HDX will be available for vendor testing beginning on 8/24. Vendor testing will take about a month. So, the LSA export is targeted to be ready by 9/24.
A message went out from HUD on 8/3/2020 with a revised reporting timeline.
6/19/2020
The reporting team is continuing to work with our partners at HUD and the other HMIS vendors to develop LSA for this reporting year. There have been significant changes since last year, although the end result should be easier reporting for communities.
HDX
HDX is still not available for vendor testing. As of yesterday, the target is 7/6/2020. After that, vendors will have 4 weeks to test their LSA exports and correct problems or notify HUD of issues with HDX.
Tentative Reporting Date
TENTATIVELY, the LSA export should be ready for uploading to HDX starting 8/6/2020. There are a lot of moving parts that may result in delays, but as of now, this is what we know.
Meanwhile, please review 2020 LSA Preparation Actions for steps that can be taken before the export report is available.
2020 LSA Preparation Actions
RRH Bed Inventories
For the LSA, the export does not use a PIT count. It is an average over the entire reporting period.
Action Needed:
All RRH Bed Inventories should be updated to show average bed availability during the 2018-2019 reporting period.
Refer to Recording and Reporting Bed and Unit Inventory for Rapid Re-Housing (RRH) Projects for more information on this requirement.
Households
For the LSA, all enrollments MUST have the same HoH from Project Start to Project Exit. To identify the problem enrollments, create the following Look.
HMIS Performance Model
Dimensions and Measures to include:

Enrollments, Household ID
Clients, Number of Clients

Filter:

Reporting Period: is in range: 2018-10-01 until (before) 2019-10-01
Entry Screen, Head of Household (Yes/No) is Yes
Programs, Project Type Code is equal to:

Emergency Shelter
PH - Housing Only
PH - Housing with Services
PH - Permanent Supportive Housing
PH - Rapid Re-Housing
Safe Haven
Transitional Housing

Run the report
The report should be sorted in descending order by Number of Clients. Any Household ID with more than 1 HoH should be corrected.
To do this, one by one,
Filter on the Household ID

Add in Enrollment ID, run
Using the link go to the Enrollment in Clarity

Correct the head of household from the Enrollment screen:

Back in Looker, Remove Enrollment ID, then repeat the process for any remaining enrollments with two Heads of Household.
Project Descriptor Data Elements
HUD has reminded the following needs to be correct for all CSV Exports:
Organization Name - must be the full legal name of the agency


There must be only one organization name for each organization in the HMIS implementation
Common Issues and examples:

Abbreviations instead of full names - BCMW
Names with code in them - "Economic Opportunity Agency (EOA)- NEC (no data entry)
Names identifying it is the agency name: Salvation Army (agency)
Creating a separate organization for each operation/project of the organization - Catholic Charities Hope House, Catholic Charities Sojourner House and then a single Catholic Charities

For statewide implementations ONLY it is understandable that a single organization can have multiple locations across the state, and you need to be able to separately identify them.

This should be done by CoC number
For readability, an implementation may add a "-location" to the name to facilitate privacy settings when the same organization has locations in different areas of the state. - "The Salvation Army a Georgia Corporation - xyx county" or "The Salvation Army a New York Corporation - ABE City."
LSA Data Quality Flag Resolution
LSAReport
Scope
Run the System-wide export found in the Administrator section of the Report Library.
Report Period
Correct report periods are 10/01/2018-09/30/2019 AND 10/01/2019-09/30/2020.
Geography
Geocode
Geocodes must be exactly 6 digits. To identify sites with an issue, create a Look to review the project descriptors/geocodes. As needed, correct on the appropriate Site screen in Clarity Human Services. Re-run the export.
Zip Code
Zip codes must be exactly 5 digits. To identify incorrect zip codes, create a Look to review the project descriptors/geocodes. As needed, correct on the appropriate Site screen in Clarity Human Services. Re-run the export.
Inventory.csv
All the upload errors for Inventory.csv are the result of a problem with project descriptors on the inventory screen. For an overview of how to find the projects/inventories with problems, refer to: Additional Project Information Look.
Additional Bed Inventory Guidance
For further information concerning bed inventories and reporting, please refer to HMIS Bed Inventories, Occupancy and Reporting. This article shows which Clarity screen the various project descriptors are pulled from. Programs are recommended to check specifically for set up for:
Geocode on Site screen
Correct zip code on Site screen
CoC code on Inventory screen


Updated: 10/31/2022