Bitfocus has built several different data models to meet various analysis needs:
Client Model
Similar to HMIS Performance, however, does not require project enrollment to be included in the model
The only model to include deleted client data.
More information in the Client Model article
Coordinated Entry
Analysis across a continuum
Designed to work with Coordinated Entry features from Clarity Human Services
Only available with standalone Looker license
More information in the Coordinated Entry Model article
Data Quality
Use for analyzing data quality performance for projects
Covers all HMIS data elements
More information in the Data Quality Model article
HMIS Performance
Most popular, general-purpose model
Must have a project enrollment to be included in this model
More information in the HMIS Performance Model article
HMIS Population over Time
Longitudinal analysis
Program evaluators may be interested in this model
Look at the total client population on a given day
Analyze long-term trends in your data
Must have a project enrollment to be included in this model
More information in the Population Over Time Model article
Inventory Model [BETA]
Directly associated with Clarity Human Service's Inventory functionality
Unit Queue and Client Information
Count of Occupied, Available, or Offline Units
Review current Unit Queue and client-based occupancy details
Great for Matchmakers, Project Managers, System Administrators, and Stakeholders
More information in the Inventory Model article
Outreach Model [BETA]
Limited to Encampments with at least one stay
Review Encampments, Client Counts, and Client Geolocation History
Coming Soon: Visualize Encampments on a Custom Map Visualization
More information in the Outreach Model article
Note: Beta models are in a stage of development where frequent changes and improvements will be made including, but not limited to, fields, views, and permissions. Updates in the model may impact pre-existing content with the nature of beta models.
Project Descriptor Model
No client data
Information about projects and agencies
System administrators would use this model
Agency managers may find it useful for staff Looks (without client data)
More information in the Project Descriptor Model article
Reservations Model
Ability to see all reservation slots for all dates in the recent past or near future
Ability to show which slots are reserved
Ability to see client data associated with reservations, including whether the client showed up or not
More information in the Reservations Model article
Services Model
Use for services that may or may not be connected to a project enrollment
Must have a service to be included in this model
Contains many of the same dimensions as the HMIS Performance model
---
Note: For more information on specific dimensions or measures, refer to the

(information bubble) available next to some of the field names.
Float your cursor over the

(information bubble) for a brief description.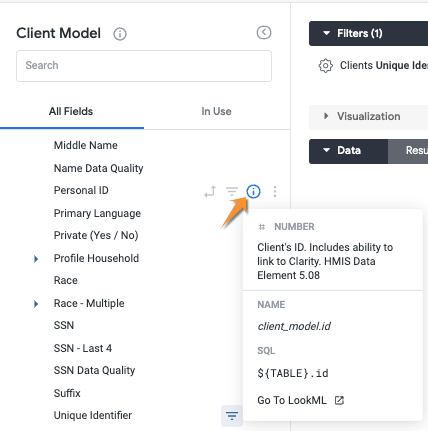 Updated: 09/15/2022