For an overview of the Data Import Tool (DIT), see Accessing the Data Import Tool (DIT).
File Format
The Data Import Tool (DIT) accepts data in HMIS CSV or XML format. For file specifications, please see the Format Specifications . If you're importing HMIS XML files, the DIT allows the XML schema to be expanded to include fields outside of the standard HMIS XML schema. For more information see the "Custom Fields" section of Accessing the Data Import Tool (DIT). Users can import single files, a ZIP file containing one or more files, or an entire folder containing one or more files. When uploading a compressed ZIP file, the importer expects the ZIP only to contain CSV or XML files. Any extraneous files, folders, or subfolders will cause an error suggesting to review the file structure within the compressed file before attempting another upload.
Uploading a File
Once a file has been added to the DIT queue, the filename, and filesize display. Click Start Upload to begin the upload process or click Cancel to remove the file from the queue.

File Validation
Once the file is uploaded from the queue, the next step is validation. During this step, the system ensures the file(s) adhere to data formatting specifications. To begin the validation process, click Start Validation.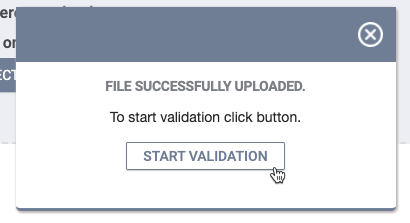 Once validation is complete, the page displays information about the file(s) and a section to map Program, Service, and Assessment data.
The Data Analysis section displays a total count of each type of record within the file(s). Programs, Services, and Assessments display unduplicated below.

Mapping Programs, Services, and Assessments
The DIT allows users to map source records from the imported file(s) to existing destination records within Clarity Human Services. Establishing mapping relationships is key to ensuring data quality. You can filter results on the source Organization or Program, if applicable. The available options for mapping are based on your agency (or the agency you're switched into). Please note that if Programs, Services, and Assessments are not mapped here, the associated records will not be included in the import.
For each data type, choose the Clarity Human Services Program, Service, or Assessment to map the data to.

Click the Save button for each section once you've associated the source data with a Clarity Human Services record.
Importing the File(s)
Once the mapping is complete, the data can be imported into Clarity Human Services. Click Import to start the import.

The number of processed records displays during the import. Click Cancel to abort the import at any time.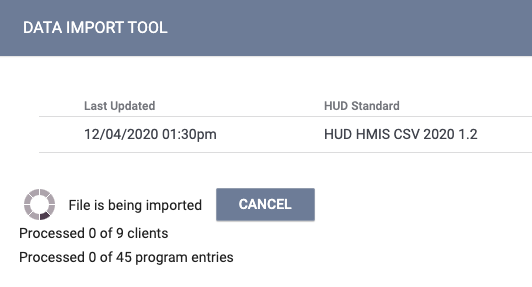 When the import completes, the import will display as Imported.

Viewing the Import Results
Click Show Results at the bottom of the page to see how the data was imported into Clarity Human Services.
The Message column informs you how the DIT handled each record. If an error occurred, details on the error display, allowing you to resolve the error on a subsequent import attempt.