Report Purpose and Summary
The Client-Level System Use & Length of Time Homeless Report is designed to provide a general summary of information in an individual client's HMIS history that is relevant to chronic homelessness. It is intended to serve two general purposes:
To consistently and systematically generate third-party documentation for an individual client's time spent in street outreach, emergency shelter, and/or Safe Haven projects that is confirmed by HMIS data for use by HUD-funded projects where chronic homelessness is an eligibility requirement; and
To provide an overview of an individual client's HMIS history that may aid in discussion with clients and improve the accuracy of responses to the Living Situation data element at project entry.
The report is a system-wide report. It will calculate across CoCs; across the entire Clarity Human Services instance.
Running the Report
Report Location
The report is a client-level report and must be run from the client's profile in Clarity. From anywhere within the client record:
Click on the printer icon:

Run "[HUDX-233] Client-Level System Use & Length of Time Homeless Report"
Who Can Run the Report
Any user that has access to the client can run the report.
Given the system-wide nature of this report, some communities may prefer to use a version that narrows access to client data based on sharing groups. There is a separate report that takes into account sharing groups: [HUDX-233] Client-Level System Use & Length of Time Homeless Report - Sharing Group Restricted. System Administrators may choose which report is appropriate for their community in

Setup/Settings/Report Library.
Parameters
Report Date Range - Choose the Report Date Range (usually the past three years)
Report Output Format - Web Page, PDF, or Excel
Report Details
Specifications
Complete specifications for the Client-Level System Use & Length of Time Homeless Report can be found on the HUD portal for the report: https://www.hudexchange.info/resource/5689/client-level-system-use-and-length-of-time-homeless-report/
What is Reported
The report is in a simple table format.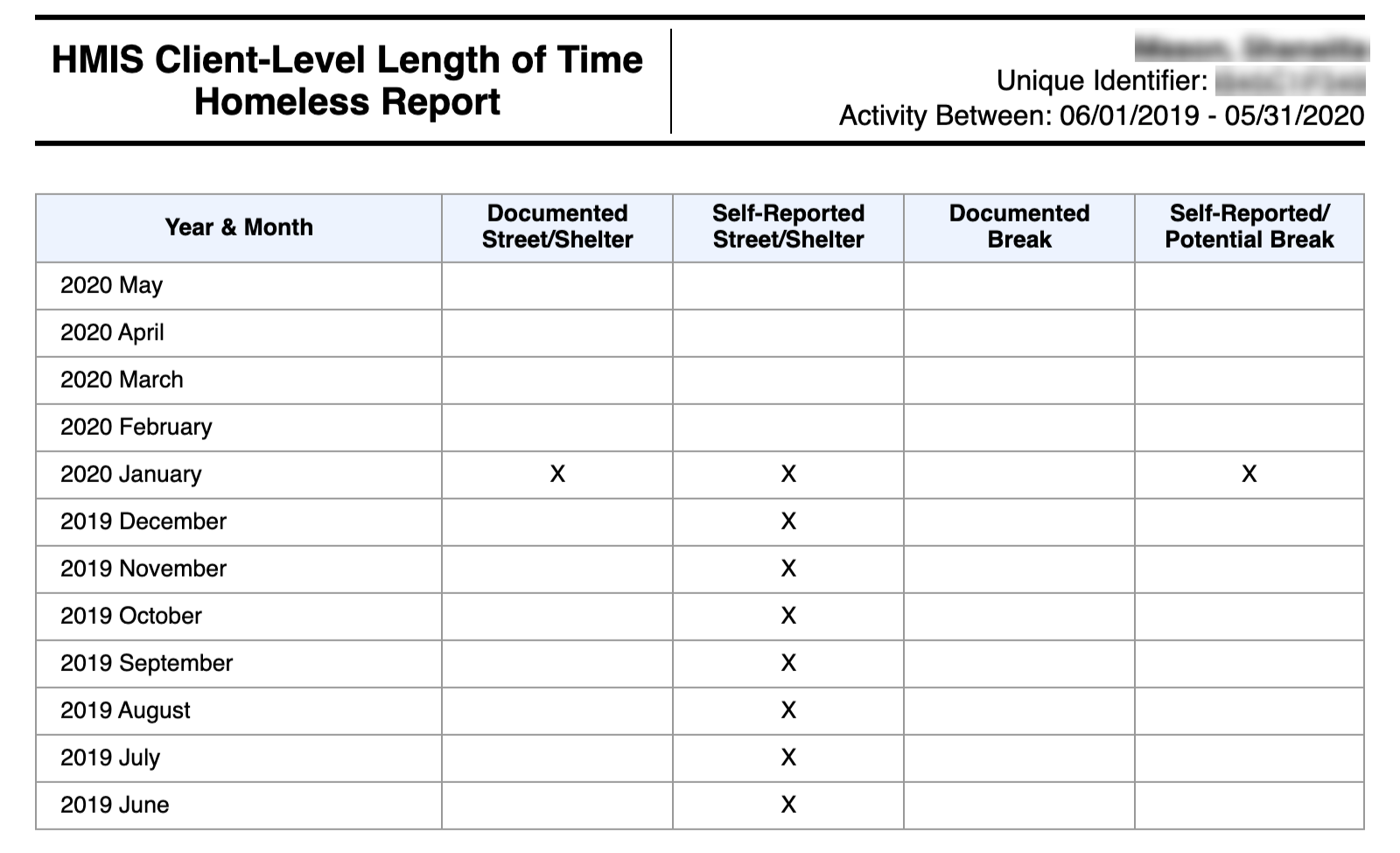 Each row represents a month and year of the chosen reporting period. Each column displays whether the client has documented or self-reported homelessness. It will also display breaks in homelessness, either documented or self-reported by the client. For details how each is calculated, refer to the programming specifications linked above.
Also included is a Report Detail View:
---

---
Drilldown Functionality
Each "X" on the main table can be drilled down for even more detail. This view is similar to the Report Detail View, narrowed down to the data point selected for drilldown.

---
Updated 4/2/2021