Purpose
The [HUDX-225] HMIS Data Quality Report is a HUD report that reviews data quality across a number of HMIS data elements. For this article, an overview of the report is provided. Please refer to the HMIS Reporting Terminology Glossary for the complete programming specifications. Where necessary, key definitions from the HMIS Data Dictionary have been included.
Key Definitions
Missing Data: Missing data is defined to mean data where the answer is data not collected, is null or blank, or where the entire form or table record on which that field resides is completely absent.
Latest Project Stay Only: This report should use each relevant client's latest project stay (i.e., latest program enrollment).
Running the Report
Report Location
The report is found in the HUD section of the Report Library. There is also an Admin version available in the Administrator section.
Who Can Run the Report
Anyone can run this report, but the returned information will be limited based on the user's access rights.
Parameters
Switch Access Agency(ies)
To meet customer needs, an additional feature has been added to the HMIS Data Quality Report. This feature is designed to allow a user to generate the report for programs from multiple agencies. Some ESG grants require this capability. The ability is dependent on the access rights of the user. In other words, the user must have access to more than one agency.
The list of agencies will include the user's primary or home agency, followed by other agencies to which the user has access.
CoC Filter Category

There are four levels of CoC filtering available. Only one option may be selected for each report:

Agencies in CoC - The report will only pull from Agencies with the selected CoC
Agencies with Programs in CoC - The report will only pull from Programs/Projects with the selected CoC
Agencies with Sites in CoC - The report will only pull from Sites with the selected CoC
Agencies with Bed Inventory in CoC - The report will only pull from Bed Inventories with the selected CoC.

Be aware, choosing this option will limit to only those projects with Bed Inventories.

Program Type(s)

Choose which program type(s) to include
Program Status
All, Active, Inactive
Continuum Project

A new filtering option is now available. This status is taken from the Manage/Programs screen:

All - All projects
Yes - Only includes Continuum projects
No - Does not include Continuum projects

Program(s)

Choose which program(s) to include

Report Date Range

Choose the date range of enrollments to include
Report Output Mode

Regular Report
Details Report - only available as Zip with XLSX format

Report Output Format

Web Page, PDF, Excel

Drilldown Output Format

Web Page, PDF, CSV
Additional Admin Parameters
Agency Status - All, Active, Inactive
Agency Filter Category - See CoC Filter Category, above
Agency(ies) - Choose which agency(ies) to include
Report Details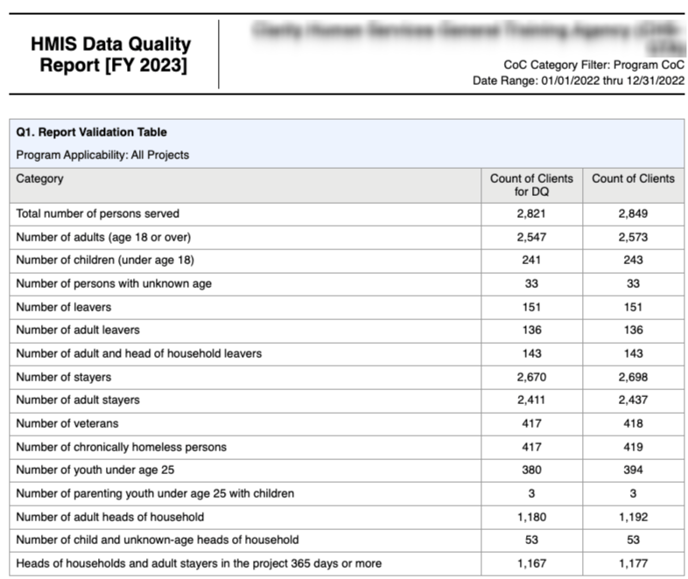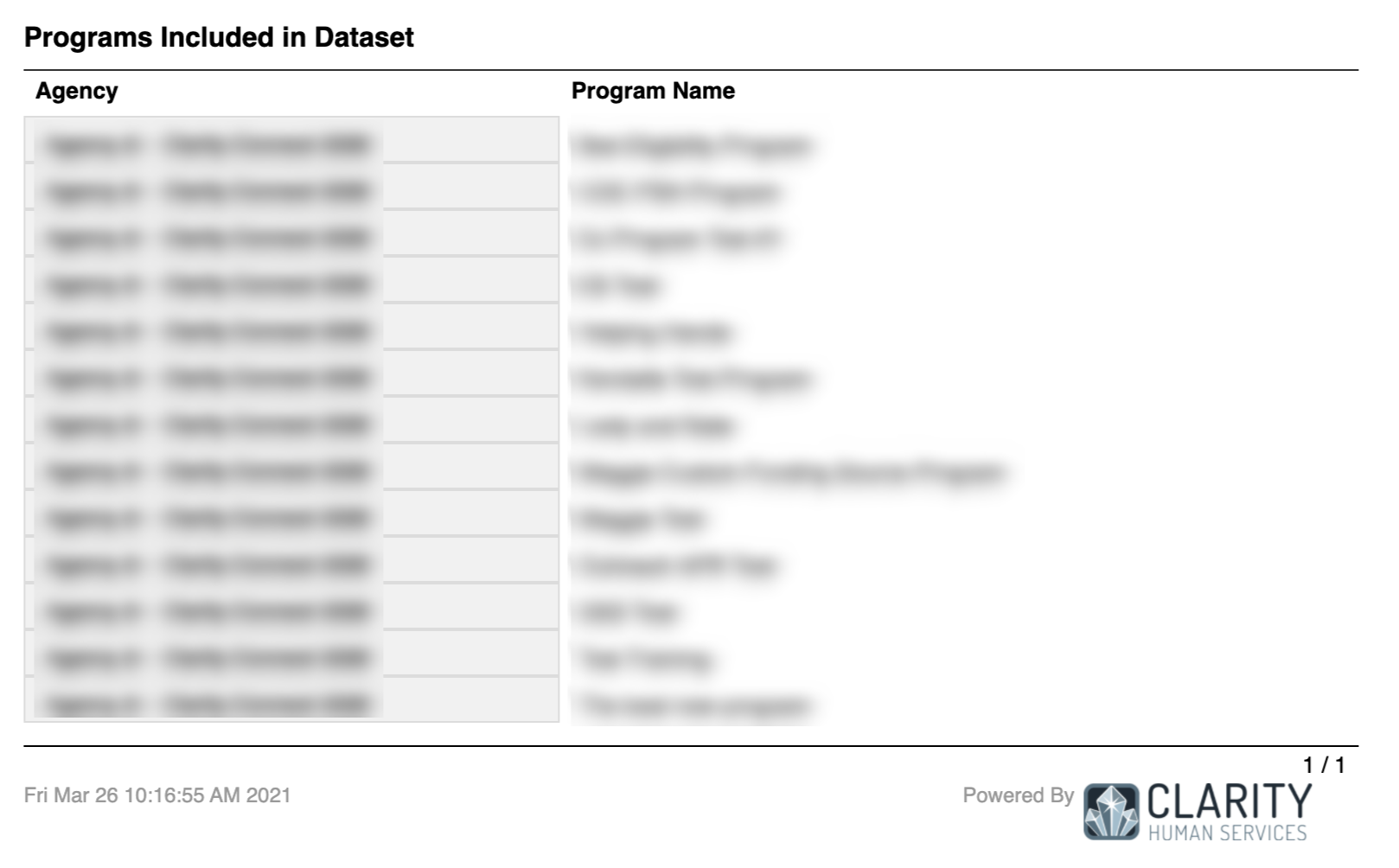 Drilldown Functionality
Drilldown functionality is available for each section of the report and contains a list of clients with Unique Identifier, Client Name, SSN, Date of Birth, Program, Start Date, End Date, and Assigned Staff.

Updated: 01/11/2023