Report Purpose & Summary
The Housing Inventory Count is designed to report on housing stock available in a community that is dedicated for homeless persons. The report also offers a point-in-time look at utilization.
Running the Report
Report Location
Due to the nature of this report and the information available in the drilldowns, it is included in the Administrator section of the Report Library.
For customers using the new Bed and Unit Inventory features of Clarity Human Services, the report has been updated to work for both bed inventory management tools.
Who Can Run the Report
System administrators and users with additional access can run the report across multiple agencies.
Parameters
The following parameters are required to run the HIC.
CoC
Choose which CoC to report on
Agency Status
All, Active, Inactive
Agency Filter Category

There are four levels of CoC filtering available. Only one option may be selected:

Agencies in CoC - HIC will only pull from Agencies with the selected CoC(s)
Agencies with Programs in CoC - HIC will only pull from Programs/Projects with the selected CoC(s)
Agencies with Sites in CoC - HIC will only pull from Sites with the selected CoC(s)
* Agencies with Bed Inventory in CoC - HIC will only pull from Bed Inventories with the selected CoC(s). Be aware, choosing this option will limit to only those projects with Bed Inventories ***Recommended***

Agency(ies)

Choose which agencies to include

Program Type(s)

Choose which program types to include

Program Status

Recommend using All so projects that may have closed during the reporting year are included

Program(s)

Choose which programs to include

Client Location Filter

Selecting this option will only include households where the HoH has the selected CoC as the Client Location

HIC Year

Year for the report, usually the current year

PIT Date

For official HUD HIC reporting, this should the CoC determined point-in-time date, during the last ten days of January of the reporting year

Report Output Format

Web Page, PDF, Excel
Report Details
Programming Specifications
At this writing, HUD has not provided official programming specifications. Communities and vendors work off the HIC and PIT Data Collection for CoC and ESG Programs notice. Refer to the 2019 version for the latest information.
For an overview how the HIC and PIT are pulled from Clarity Human Services, refer to HMIS Bed Inventories, Occupancy and Reporting.
Report Tables
Due to the width of the HIC, the graphics below show the two sides of the report.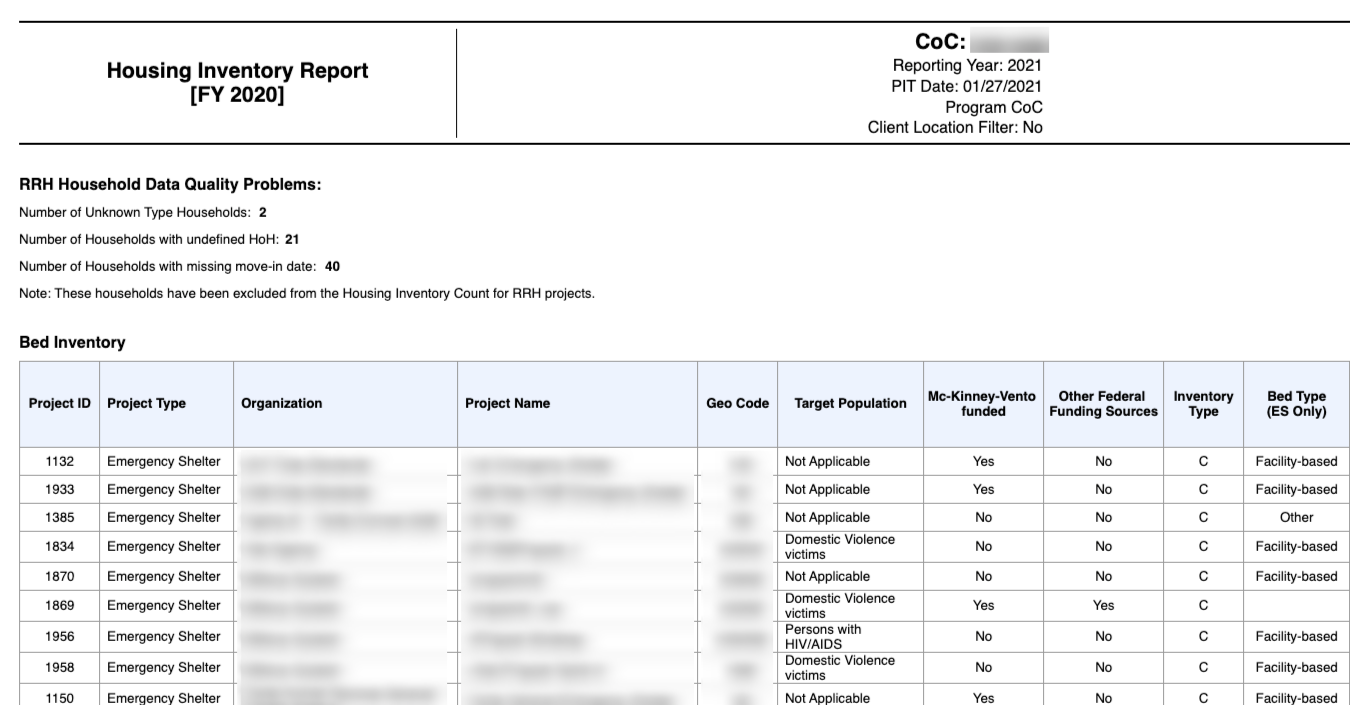 Included Projects and Inventories
In addition to the parameter selections, projects and related bed inventories will only be included in the HIC if the project is designated as a "Continuum Project." To verify this setting:
Click on Launchpad, then Manage
Click on the Programs tab
Edit the program/project to check
Verify Continuum Project is set to "Yes"

Drilldown Functionality
Drilldowns are available for rows "Number of Households with undefined HoH" and "Number of Households with missing move-in date".
Updated 4/8/2021