Report Purpose & Summary
This is an enrollment-based report intended to serve as a one complete month review of housing programs.
Running the Report
Report Location
This report is found in the Housing section of the Report Library.
Who Can Run the Report
Anyone can run the report but the returned information will be limited based on the access rights of the user.
Parameters
The following parameters are required to run the report.
| | |
| --- | --- |
| Month | Choose which complete month for the report - up to 6 months ago |
| Report Output Format | Web Page, PDF, or Excel |
Report Details
The report breaks down the project stays into the following sections:
Emergency Shelter
Transitional Housing
Permanent Supportive Housing (disability required for entry)
Safe Haven
PH - Housing Only
PH - Housing with Services (no disability required for entry)
PH - Rapid Re-Housing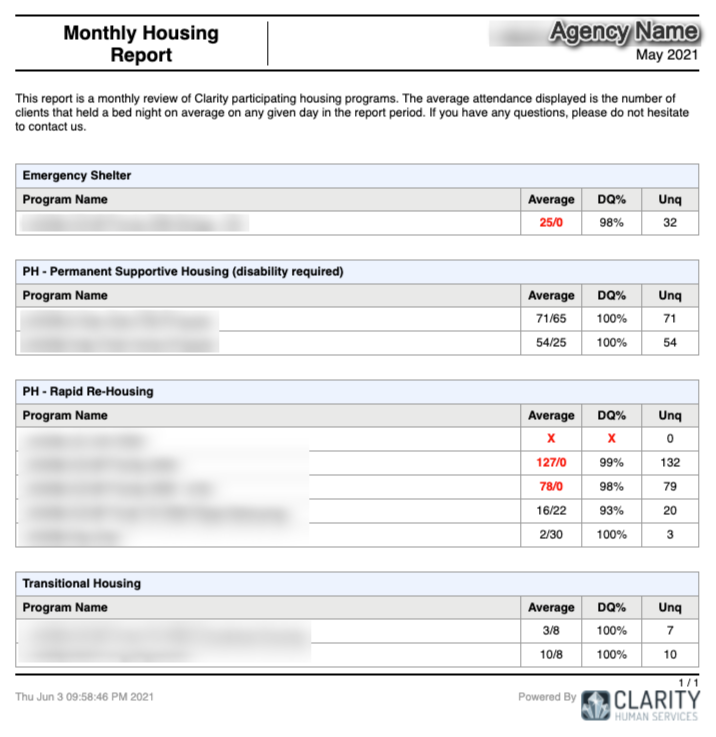 Average
This column shows, using mean average, how many beds were occupied out of total available beds during the month.
Emergency Shelter - Night-by-Night
If a project is set-up as Emergency Shelter project type and Night-by-Night tracking method, then each night of Bed Night Services are counted for the Average column.
Permanent Housing Projects
For all PH projects (Project Type = [3, 9, 10, 13]), to be included as an occupied bed:
Housing Move-in Date <= Report End Date AND
Housing Move-in Date >= Project Start Date AND
(Housing Move-in Date < Project Exit Date OR Project Exit Date is NULL)
If there is an X in the column, there were not active enrollments during the reporting period.
If there is a value, such as 127/0 in the example above, this indicates there are no active Bed Inventories for the reporting period.
DQ%
This column shows the average percentage of clients' Data Quality per program. There may be issues, particularly in the even data integration is used in the community.
An X indicates the program doesn't have active client enrollments during the reporting period.
Unq
This column provides the unique count of active clients during the month.
Drilldown Functionality
Drilldowns are available from both the DQ% and Unq counts and display the same column results:

Data Quality Details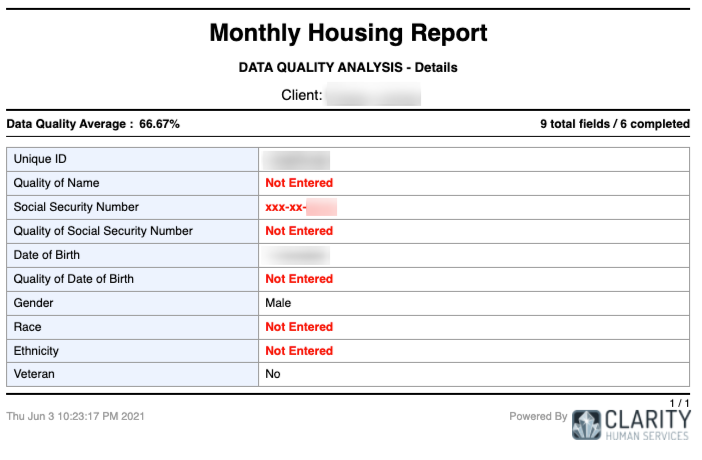 Updated: 05/22/2023