Description
Type of Report
The CoC Housing Assessment Report uses Bed Inventories and Program Enrollments to report on bed availability and utilization.
Purpose of Report
This report provides a monthly housing attendance average for each month of the reporting period for all CoC participating agencies. The four PIT (Point-in-time) dates (last Wednesday of the designated month) are also provided to assist in the assessment of individual housing programs included in the HIC (Housing Inventory Count) and the former AHAR (Annual Homeless Assessment Report), now derived from the LSA (Longitudinal System Analysis).
Running the Report
Who Can Run the Report
All users can run the report. There are restrictions on which information can be accessed based on the user's access rights.
Report Location
This report can be found in the following locations in the Report Library:
Housing → [HSNG-102] CoC Housing Assessment Report
Parameters


CoC

Single select
Uses the Bed Inventory CoC

Project Type
Year

Single select
Choose which fiscal year ((10/1/#### - 9/30/####)

Month
Report Output Format
Web Page, PDF, or Excel
If [Month] = [October, November, December],
then [Report Start Date] = October 1, [Year]
else [Report Start Date] = October 1, [Year -1]
[Report End Date] = the last day of the selected [Month], [Year].
Specifications
The report returns the following table structure, by program.

Table Elements
Program Name
Total Available Beds

Sum[Total Bed Inventory] WHERE
(([Bed Availability End] >= [Report Start Date] OR Is NULL) AND
[Bed Availability Start] <= [Report End Date])

Monthly average occupied beds percentage

Sum[Bed Nights]/[days in the month]

For Night-by-night Emergency Shelter: Total bed nights clients have for the program within the month.
For Entry Exit Emergency Shelter, Transitional Housing, and Safe Haven: Total days clients were enrolled in the program within the month is used for "Bed Nights".
For Permanent Housing Programs: Total days on/after the housing move-in date clients were enrolled in the program within the month.
X denotes months in the future of the reporting period

Quarterly PIT Occupancy

Sum[Bed Nights] on PIT date

Average Length of Stay (during parameter selected Month)

Sum[Bed Nights]/[Number of Clients]

Utilization rate (during parameter selected Month)

Sum[Bed Nights]/(Sum[Total Bed Inventory]*[days in the month])

Drilldown Functionality
Drilldown functionality is available for this report. To drilldown, click on any count. The drilldown functionality will then provide the following information:
Unique ID
Name
Age
HMIS LOS (Length of Stay)
LOS within Month
Project Start Date
Project End Date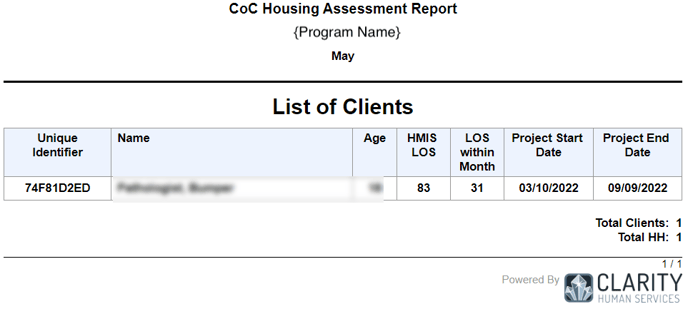 Updated 3/22/2023