How Do I Manage Attendance Services from the History Tab?
Overview
Attendance service items can be managed from the Attendance Module or the client record HISTORY tab. Managing these services from the HISTORY tab is a convenient way to make adjustments for a single client and their household members, if necessary.
Accessing Attendance Records
Go to the HISTORY tab in the client record. Click the Edit link next to the service that needs adjustment.

The ATTENDANCE section is located at the bottom of the service record.

Deleting Attendance Records
To delete a single attendance date, click the trashcan icon

next to the date. A pop-up box will appear notifying you that this is a permanent modification. Click OK to delete the record.

Managing Numerous Attendance Records
When an attendance service item is recorded in a client record for multiple dates, those service items are linked together. These items will be linked whether they were recorded from the client record or the Attendance Module.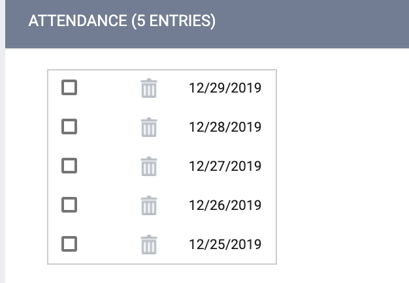 Numerous attendance dates can be deleted by marking the checkbox next to each date. Clicking Delete Selected Records will delete these records completely.
Managing Household Member Attendance Services
If other household members require the same changes to the same service item, toggle the switch next to their name(s) before clicking Delete Selected Records. Doing so will automatically make the same modification to their client record(s).

Viewing Expense Amounts
Some attendance entries will have an expense item listed. If an expense item was recorded with the service item, the amount will be listed next to the attendance date.

After completing modifications, click SAVE CHANGES.