Report Purpose & Summary
The [GNRL-110-AD] VIP List is a report that can be used to identify clients that have accessed the homeless services system most frequently. The list can be prioritized on a handful of different criteria:
Programs Enrollment
Services Attendance
Expenses Received
Running the Report
Report Location
The report is located in the Administrator section of the Report Library.
Who Can Run the Report
System Administrators, and others with the appropriate access level, can run the report.
Parameters
The following parameters are required to run the report.
CoC
Choose the CoC to report from
Agency Status
All, Active, Inactive
Agency(ies)
Choose the Agencies to include in the report
Project Type(s)
Choose the Project Type(s)
Program Status
All, Active, Inactive
Program(s)
Choose the Programs to include
Number of VIP users to display
Choose a number of top clients to include
Most Active Criteria

Programs Enrollment
Services Attendance
Expenses Received

Veteran Status
All, No, Yes, etc.
Report Date Range
Choose the date range of client activity to include
Report Output Format
Web Page, PDF, Excel
Report Details
Universe
Based on the parameters selected, the report returns
Program Enrollments - active during the reporting period

Services (program connected) - provided under Active Client Enrollments (regardless of dates services were provided)

Expenses - provided under program connected Client Services during the reporting period
Clients are sorted by Most Active Criteria:
Programs Enrollment - Number of Program Enrollments

Services Attendance - Number of Client Services

Expenses Received - Amount of Expenses
The Gender column combines Gender picklist values and uses the below abbreviations:
"1 OGI" - One Other Gender Identity
"PNTA" - Prefers Not To Answer
VIP List Table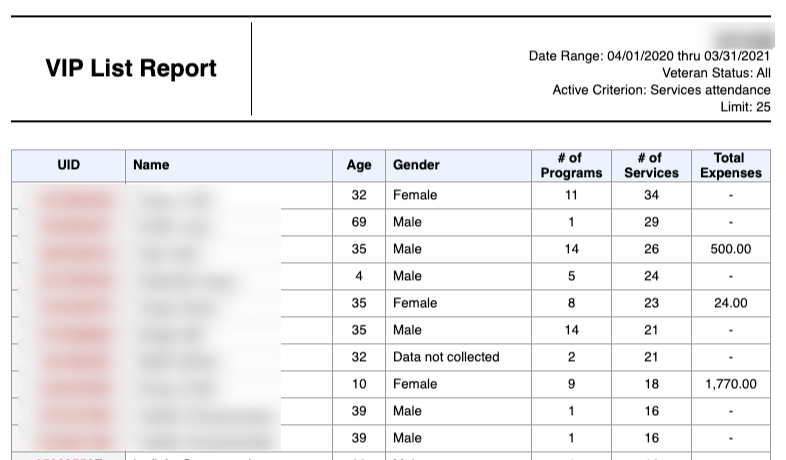 The above table format is used for all three selection criteria: Programs Enrollment, Services Attendance, Expenses Received.
Agency List Table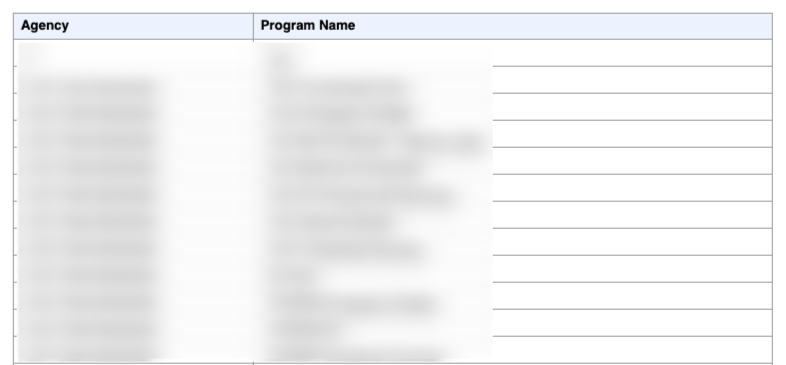 Updated: 11/28/2023