[GNRL-108-AD] Chronic Homeless Program Enrollments
Report Purpose & Summary
This administrative, program-based, report provides a list of chronically homeless clients enrolled in the programs selected. It also includes the total number of chronically homeless clients included in the report.
Running the Report
Report Location
This report is located in the Administrator section of the Report Library.
Who Can Run the Report
System administrators and users with additional access can run the report across multiple agencies.
Parameters
The following parameters are required to run the report.
| | |
| --- | --- |
| Parameters | Description |
| CoC | Choose a Continuum of Care |
| Agency Status | All, Active or Inactive Agencies |
| Agency(ies) | Ctrl select which agencies to include or choose All |
| Project Type(s) | Ctrl select which project types to include or choose All |
| Program Status | All, Active or Inactive Programs |
| Program(s) | Ctrl select which programs to include or choose All |
| Report Date Range | Choose the date range of enrollments to include |
| Report Output Format | You can select Web Page, PDF, or Excel |
Note: If the report contains more than 20,000 rows, the report output will automatically be Excel.
Report Details
This administrative report returns chronically homeless clients that were enrolled in the selected programs during the reporting period. It includes the following:
List of clients includes each project stay, program name and program start/end dates
The combined total is a distinct count of chronically homeless persons
Chronic homelessness is determined by CH at Project Start logic described in the HMIS Reporting Glossary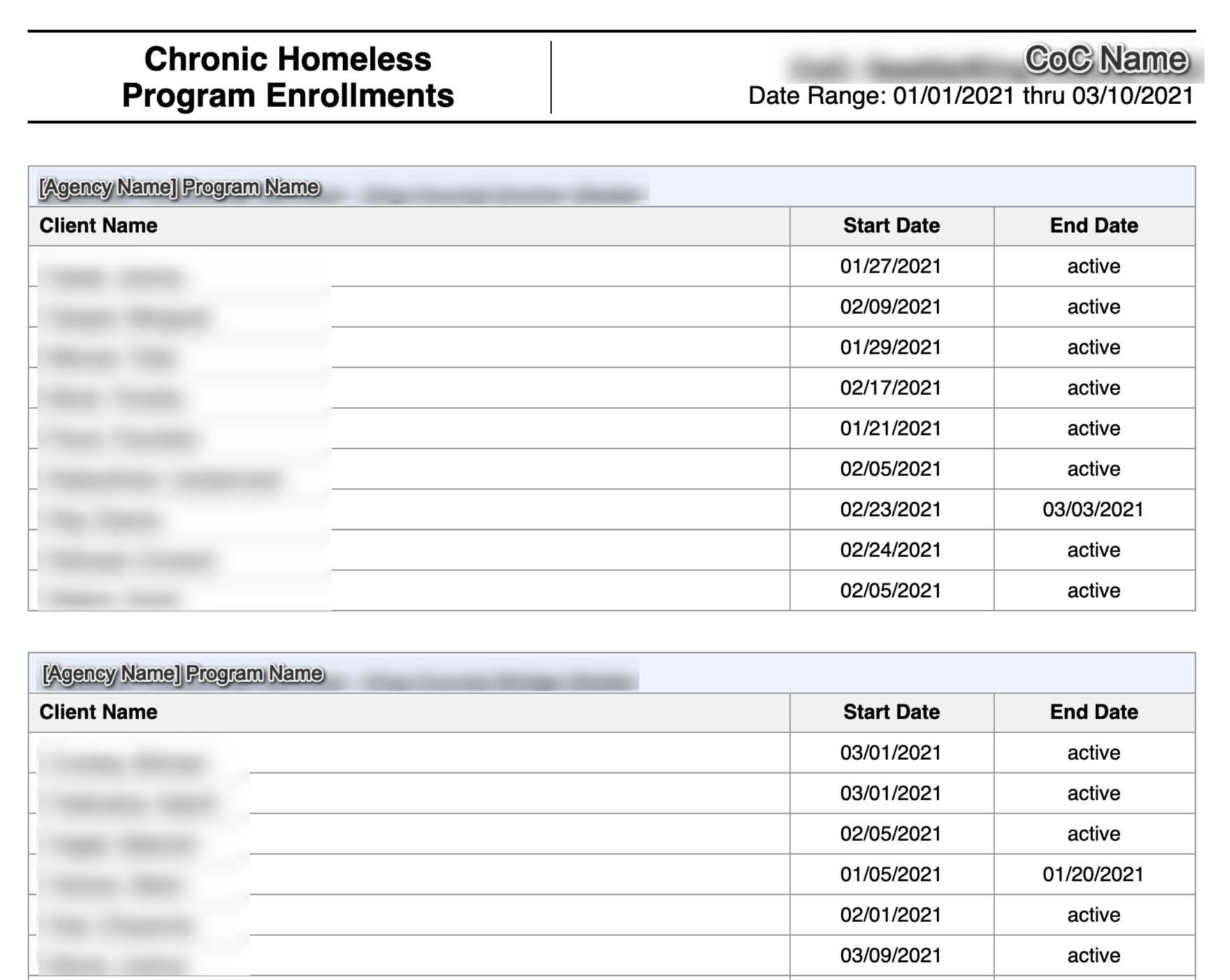 Drilldown Functionality
Drilldown functionality is not necessary for this report.
Updated : 09/23/2022