Description
Type of Report
This is a program enrollment-based report utilizing information from both the enrollment screen and, if applicable, the exit screen.
Purpose
The report provides a list of client enrollments and their time in the program, and highlights data quality problems.
Running the Report
Who Can Run the Report
All users can run the report. There are restrictions on which information can be accessed based on the user's access rights.
Report Location
This report can be found in the following locations in the Report Library:
Data Quality → [DQXX-102] Program Data Review
Parameters
The following parameters are required to run the report:
Program
Choose a program for your report.
Status

Active clients
Exited clients from periods within 3 months to 2 years
All Exited

Report Format
Note: If the report contains more than 10,000 rows, the Report Format will be automatically changed to Excel.


Report Details
Information for this report pulls from the Program Enrollment screen and the Program Exit screen based on the parameters responses.
In the event a client enrollment includes a data entry error, the client will be displayed in red. The count in the Missing Entry Data and Missing Exit Data columns indicate the number of errors on the screens.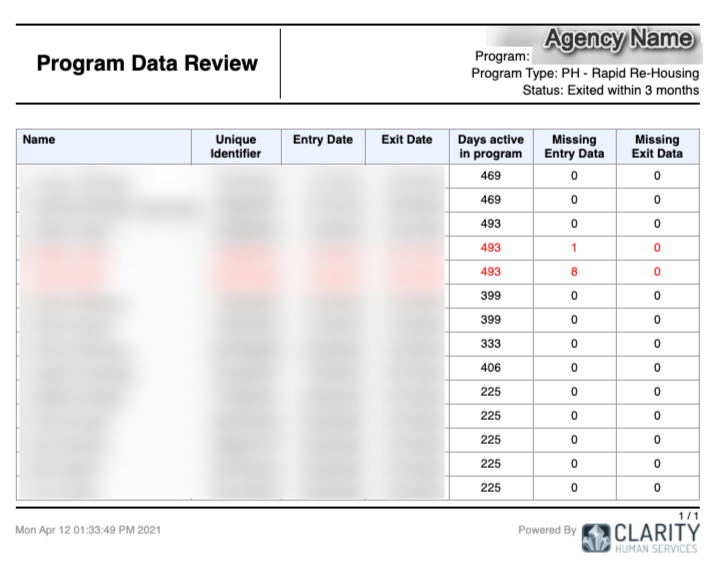 Fields are counted as an error when:
[Mandatory Field] is reported as "Client doesn't know," "Client prefers not to answer," "Data not collected" or is NULL

If the field is mandatory, but not asked because of specific answers to other questions (constraints), the field is not reported as missing
Drilldown Functionality
The Missing Entry Data and Missing Exit Data columns drill down with details of required fields from Enrollment/Exit screens, respectively. Fields with missing answers are labeled as "need corrections." Clicking the Unique Identifier, "valid" or "need corrections" will display the associated Enrollment or Exit screen.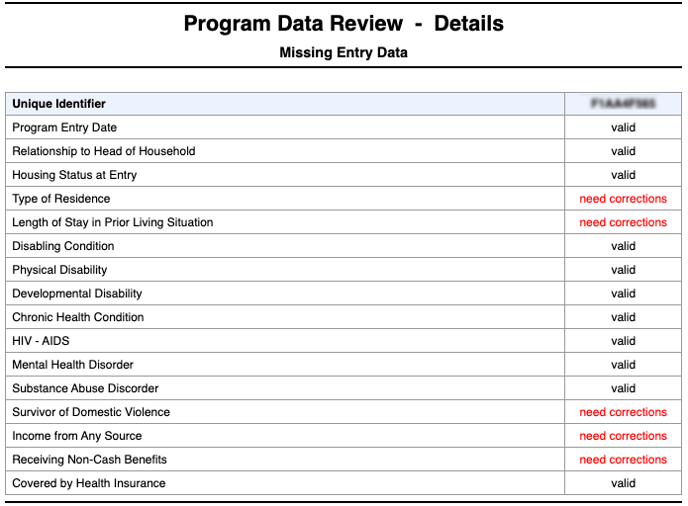 Note: The screenshot above is taken from a sample program. The actual information displayed in the Missing Entry Data drilldown will depend on the fields used in the program's Enrollment/Exit Screen.
Updated 12/04/2023