Once you've created a funding source, you can assign funding amounts (Direct Expenses) and sub-grant funds from it.
Direct Expenses
If Direct Expenses is toggled on for a funding source, the funding source can be used for service items within the agency.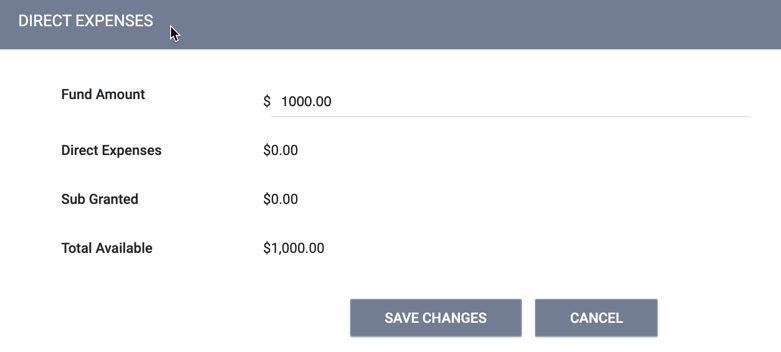 The system displays the following fields in the Direct Expenses section:
Fund Amount: add the grant's total amount (the amount must be at least $1). Note: this amount does not adjust according to any Direct Expense activity. The system displays this information in the Total Available field.
Direct Expenses: expenses that users have applied to the funding source through service item activity. This field automatically updates whenever a user records a service item associated with the funding source in a client record.
Sub Granted: this field indicates any amounts sub-granted from the funding source.
Total Available: this field automatically updates based on service item activity, deducting the Direct Expenses amount from the original Fund Amount.
Sub-Granted Funding
Portions of a funding source can be sub-granted to other agencies (and, if applicable, further sub-granted by those agencies).
To sub-grant funds, click CREATE SUB-GRANT.

Note: If the CREATE SUB-GRANT option is not available, it means you are trying to create a sub-grant from the main Funding tab rather than within a funding source record.
The fields that display for a sub-grant are the same fields that display when setting up a Primary Funding Source, with the addition of Subgranted Agency.

Enter a name for the sub-grant in the Name field. The sub-grant name must be different than the primary funding source name.
The Subgranted Agency field is divided in two parts: the top of the list displays agencies in the user's CoC. After a dividing line, the system displays the remaining agencies from other CoCs.
If Direct Expense is toggled on for the primary funding source, then Direct Expense is automatically enabled for all sub-grantees.
The sub-granted funding agency can allot funds to other agencies from the sub-granted fund source, if applicable.