Client Records and Households
Consent Refused
The Consent Refused functionality impacts the way Clarity Human Services handles the Client Profile data of clients who have refused consent for their personal information to be stored in the system.
When the Enable Consent Refused setting is toggled on by the System Administrator, a "Consent Refused" option will appear when the Client Record is created.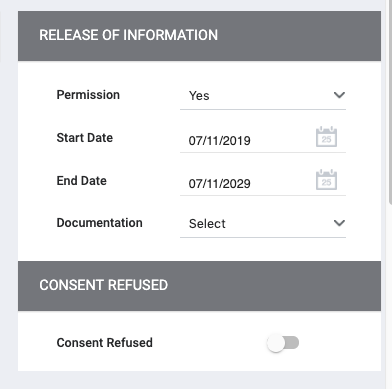 If a Staff Member toggles on "Consent Refused," the system will auto-fill the Client Profile fields below with predefined values. Once a Staff Member saves the record, the system will "grey-out" the fields in the Client Profile and they will only be editable by a System Administrator or Staff Member with Manage Consent Refused Records rights in their Access Role:
First Name
Last Name
Date of Birth (only Month and Date will be displayed)
Social Security Number
Data Quality Fields
Note: If the System Administrator has enabled the Require on Creation setting, then both of the following must be true for you to save the new client record:
Permission must be set to"No."
Consent Refused must be enabled.



If a Staff Member is a System Administrator or has Manage Consent Refused Records enabled for their Access Role, they will also have the ability to overwrite the record to auto-fill the Client Profile fields using Consent Refused toggle from the Client Privacy screen, after Client Profile creation.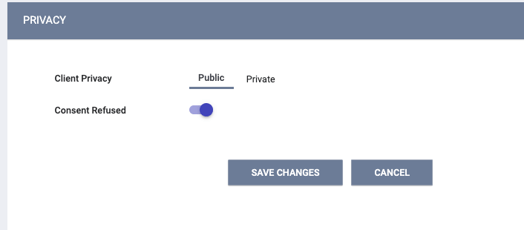 Note: This does not impact the privacy of the record or how data is shared. Once a record has been set to Consent Refused it cannot be "switched" back. A Staff Member with Manage Consent Refused Records in their Access rights would need to manually edit the information.