Overview
The client PROFILE in Clarity Human Services includes a Care Team section that includes all Assigned Staff from the client's active program enrollments, along with any staff members who are manually added to the team because they are involved with the client's care but aren't included in the Assigned Staff list.


In the Care Team section, click on the initials of a Care Team member to view their name, agency, and contact information.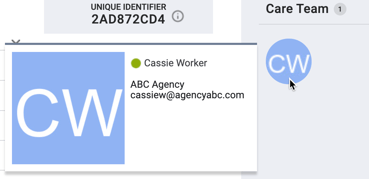 Manage the Care Team
Click Manage to access the CARE TEAM MANAGEMENT page.

The CARE TEAM MANAGEMENT page lists all Active Care Team members and Inactive Care Team members.
Team members move from the Active list to the Inactive list when they have an End Date that is before today's date.
The listing for each Care Team member includes their name, agency, start date, and end date (if applicable). Additionally, the Type column indicates whether they were added to the Care Team manually or through a program enrollment.

Add a New Care Team Member
To add a new Care Team member, click ADD CARE TEAM MEMBER.

The ADD CARE TEAM MEMBER pop-up appears.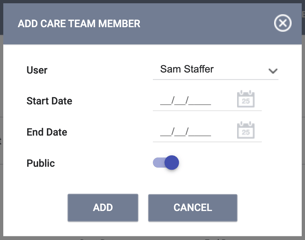 In the User field, select the name of the staff member to add to the team from the drop-down list.
Enter a Start Date.
The End Date field is optional.
The Public toggle is turned ON by default.

When the Public toggle is ON, the Care Team member will be visible to any user with access to view that client record.
Turn the Public toggle OFF if you want the Care Team member to be visible only to users at the same agency.
Click
ADD
to add the staff member to the Care Team.
Delete/Edit a Care Team Member
To edit a staff member who was manually added to the Care Team, click the Edit icon next to their name.

The EDIT CARE TEAM MEMBER pop-up appears. Edit the fields as needed, then click UPDATE.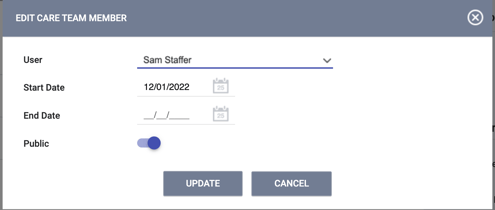 To delete a manually-added Care Team member, click the trash can icon next to their name.
Note: Only manually-added Care Team members can be edited/deleted. You will not be able to edit/delete a Care Team member who is an Assigned Staff member for an active enrollment.
Updated: 12/01/2022