What is an Assessment Measure?
Assessment Measures allow users to view the change over time of a Field in an assessment completed at the agency level.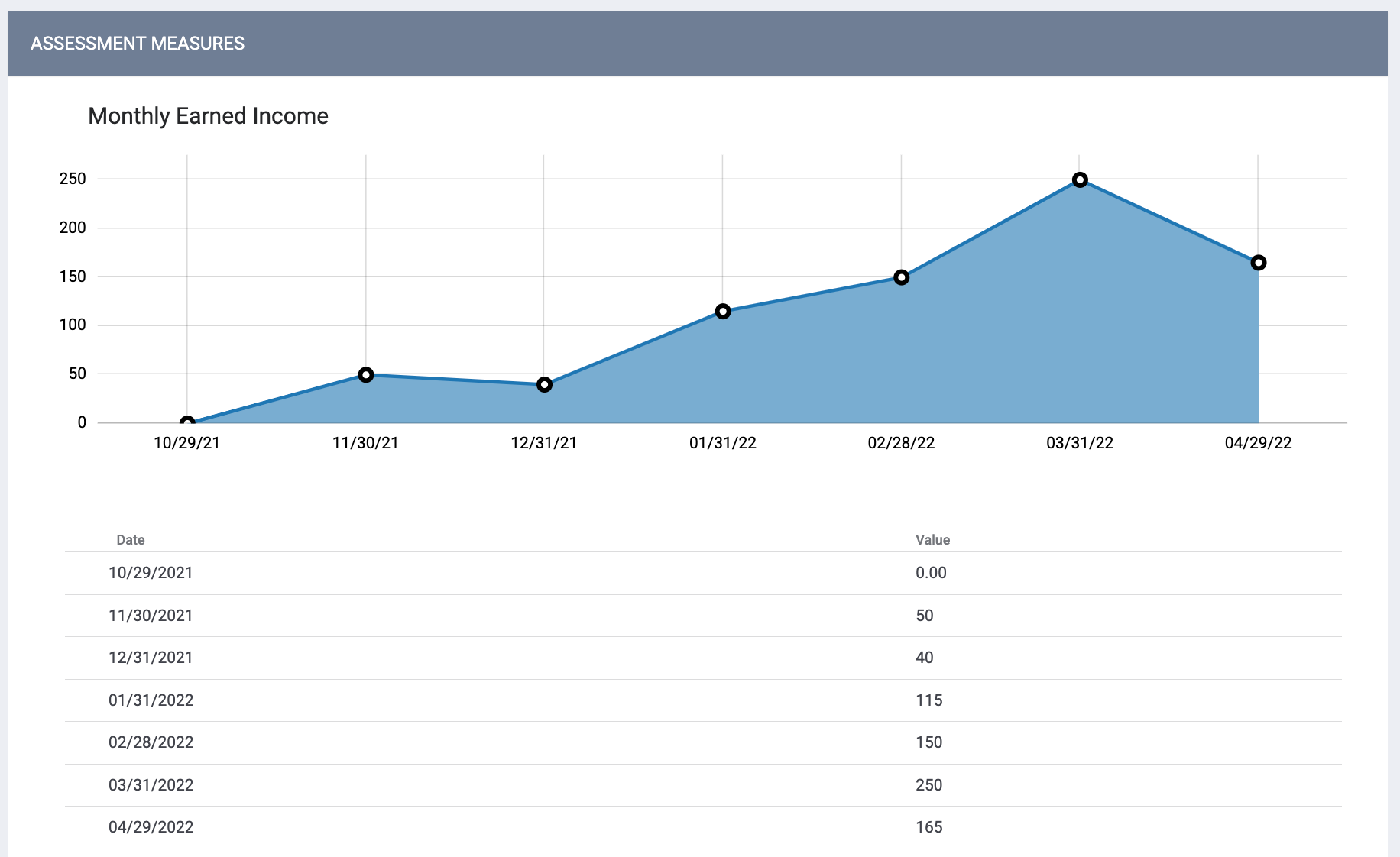 Assessment Measures are similar to Charts. However, Charts are used exclusively within program enrollments to display Status changes.
Assessment Measures must be enabled at the agency level before they can be displayed.
Enabling Assessment Measures
Navigate to MANAGE > ASSESSMENTS, make sure the toggle for the associated assessment is turned on, and click SETUP.

The MEASURES section of the SETUP page displays all the fields used in the assessment. Turn on the toggle next to a field name to enable an Assessment Measure for that field.


If desired, administrators can automatically enable a particular Assessment Measure for every agency that enables the associated assessment. They can do this by creating an Assessment Template for that assessment.
Creating Assessments Templates
Click the Launchpad and navigate to SETUP > TEMPLATES. In the Template Tools sidebar, click Assessments.
A list of all the assessments in the system will display. Click the Edit icon next to the desired assessment.


The EDIT ASSESSMENT page appears. In the DEFAULT MEASURES section, click ADD NEW MEASURE.


The ADD MEASURE pop-up will display a list of all of the fields contained within the assessment. Choose the field you would like to display as an Assessment Measure and click ADD.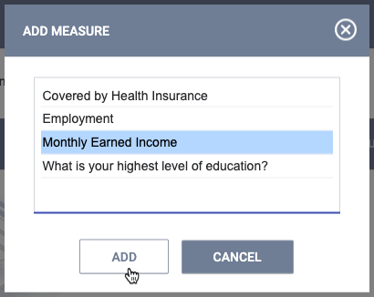 After adding the measure, you may select a different color for the Assessment Measure display if desired.

Agencies can then enable that assessment under MANAGE > ASSESSMENTS and click the SETUP link.

In the MEASURES section of the SETUP page, where all the fields used in the assessment are listed, the field(s) that were selected as measures in the Assessment Template will be enabled by default.



If desired, Administrators and Managers can turn off the toggle for the measure(s).
Viewing Assessment Measures
After a staff member completes an assessment for which an Assessment Measure has been enabled, the Assessment Measure will be displayed on the screen.
After users complete an assessment, Assessment Measures can also be viewed by clicking MEASURES in the ASSESSMENT HISTORY section of the client record.