We are pleased to announce the 2022 LSA Toolkit! These resources are designed to help you prepare data for the LSA, address LSA Flags, and quickly access resources to support your success. The 2022 LSA Toolkit includes:
Clarity Data Analysis: LSA Data Cleanup dashboards
2022 LSA Programming Specifications Updates
Additional Bitfocus Resources
HUD LSA Resources
LSA Help Desk Reminders
The Help Desk team is prepared and excited to help you during the LSA Season! If you have questions after reviewing the resources below, we encourage you to
submit a request for support
.
To expedite our assistance to you, please be as thorough as possible when submitting your ticket. Your ticket will need to contain the following:
Report parameters (CoC, Date Range)
The date the report was generated
The date the report was uploaded
The date the flag file was received
Attached Excel flag file
File submitted to HDX that generated the flag file
For more information about requesting support, check out our
"What to Include in a Ticket"
video at
https://learn.bitfocus.com
>
Course Catalog
>
Free Content
>
Clarity Human Services: Frequently Asked Questions.

Clarity Data Analysis: LSA Cleanup Dashboards
We updated the LSA Data Cleanup dashboard series that was introduced in 2021 (Data Analysis access required). Updates include:
Separated out the Utilization and LOS Looks to their own dashboard.
Added a look to the new Utilization dashboard for NbN shelter enrollments with no bed night service the night prior to Exit.
Updated Utilization Looks to include projects with no active enrollments.
Added a Look to the Funding Source Configuration Issues Dashboard for Bed Inventory Change over Time from current and Previous reporting year.
Updated the Overlapping enrollments and Bed Night looks to more closely match the numbers flagged in the LSA files.
The five dashboards include:
| | | |
| --- | --- | --- |
| LSA Data Cleanup Dashboard Name | Description | Relevant LSA Flag IDs |
| Head of Household Data | Contains looks related to common issues surrounding the head of household (HoH) data including program enrollments without an HoH. | 848, 615 |
| Overlapping Enrollments | Contains two looks to help drill down on overlapping enrollments. Please note: due to the complexity of these looks, this dashboard might take a little longer to load. | 722, 737, 739, 758 |
| Project Descriptor Data Issues | Contains looks to help locate errors around geocode and project descriptors. | 804, 814, 815 |
| Funding Source and Configuration Issues | Contains looks for common LSA errors around funding sources, bed inventory, and potential CoC Configuration issues. | 906, 919, 963-1038, 1139-1195 |
| Length of Stay and Utilization Overview | Contains looks to identify length of stay and bed utilization errors. Includes Night-by-night shelter attendance issues. | 937, 957, 958, 960, 963-1038 |
We hope that you will find these dashboards useful as you prepare and address the errors/warnings associated with HUD's LSA Report. If you have any questions about copying these dashboards, editing them, or any other looker questions, please reach out to the Help Desk.
LSA Data Cleanup Dashboard Access
These dashboards can be accessed in two different ways.
The first option is to access them through the "Built-In Reports" section of the embedded Data Analysis tab:
To activate the dashboards in this location, a system administrator would need to navigate to SETUP > SETTINGS > Data Analysis > Built-In Reports.


Within that folder, the four dashboards can each be independently activated by using the toggles and then saving.

Once the dashboards are activated on the Data Analysis tab, all users with DataAnalysis access will be able to run the dashboards through the "Built-in Reports" section. The dashboards will automatically adhere to agency privacy controls already set.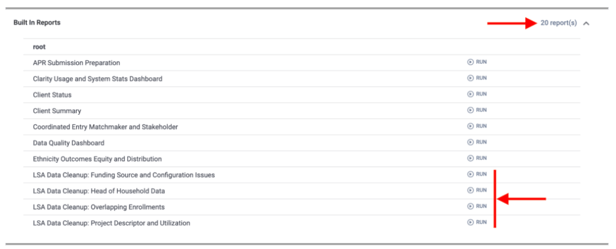 The second option for accessing the new LSA Cleanup Dashboards is through standalone Looker for users with a standalone Looker account:
First, log in to Looker and navigate to
All folders
on the left side of the screen.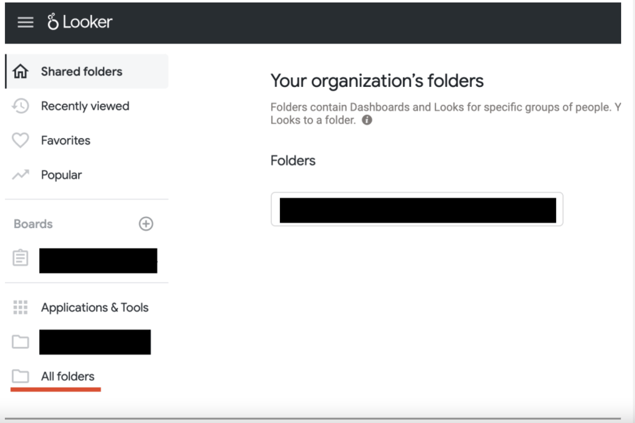 Within the folder, there will be a LookML dashboards folder that contains the four new LSA Cleanup dashboards as well as all of the other pre-programmed LookML dashboards.



2022 LSA Programming Specifications Updates
HUD shared the following major changes to the LSA Programming Specifications for the 2022 reporting year:
Report Parameter: Change from Fixed Lookback Date to Fixed Lookback Period of Seven Years.

A fixed lookback period of [ReportStart -7 years] will replace the card-coded date.

Report Parameter: Exclude Enrollment Data from Projects Based on HMIS Participation and Victim Service Provider Status.

The LSA will exclude all enrollment data from projects identified as not participating in HMIS (Project.HMISParticipatingProject = 0) or operated by organizations identified as victim service providers (Organization.VictimServiceProvider = 1).

LSA Report: Pare Down Data Quality Reporting and Limit it to the report Period/Active Cohort.
Additional Bitfocus Resources
HUD LSA Resources