This dashboard provides users with a visual look at current and future reservation status. It also includes a basic bed list that can be downloaded and printed as needed. The intended user is a shelter worker or program manager.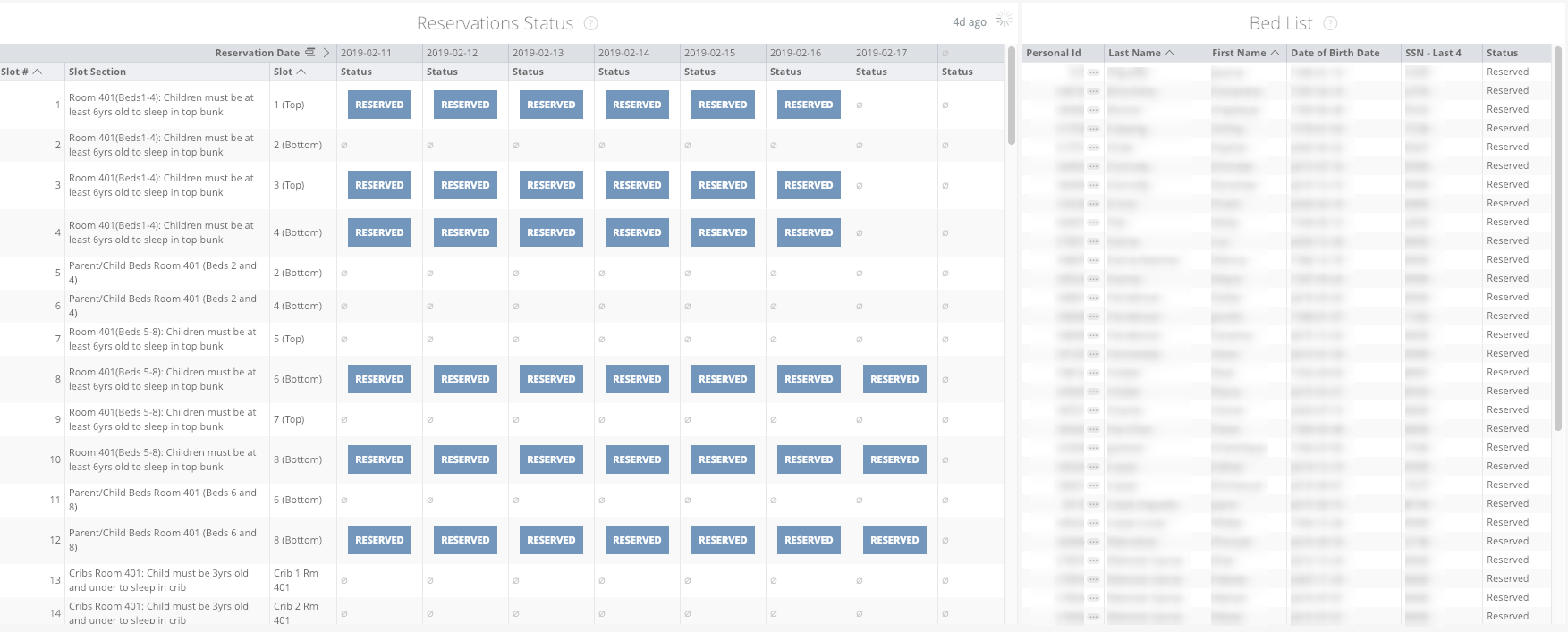 Overview
Data analysis model
Tiles

Reservations Status
Bed List

Available user filters
Tiles Overview
Reservations Status
Using the style found in the Clarity Human Services Reservations feature, this tile replicates the reservation status from the current day and forward for 7 days.
Includes the following from the Reservations model:
Reservations Slots

Reservation Slot Number (ID)
Reservation Slot Section
Reservation Slot

Reservations
Pivot on
The only filtering applied by default on this tile is the Reservation Slots Date: "0 days ago for 7 days".
Bed List
Includes the following dimensions from the Reservations model:
Clients

Personal ID
Last Name
First Name
Date of Birth
SSN - Last 4

Reservations
The only filtering applied by default on this tile is Reservations Slots Date: "today".
Access
Clarity Human Services Data Analysis Access
For users with Clarity Human Services Access Roles with Data Analysis:
Navigate to Reports,
then Data Analysis,
then Built-in Reports
Run Reservations
If the Reservations dashboard is not available, contact your system administrator.
System administrators, for information on including dashboards in your embedded Data Analysis, refer to Looker - Clarity Human Services Integration.
A built-in dashboard may also be set as a user's home screen. For instructions on this feature see Data Analysis Embedded Dashboards.
Standalone Looker
From the Browse tab:
LookML Dashboards
Choose Reservations dashboard from the list of available dashboards
If you have access to more than one Clarity instance and Looker connection model, be sure to select the dashboard for the correct connection mode.