[GNRL-201-AD] Housing Conflict
Report Purpose & Summary
The Housing Conflict report is a system-wide, service-based, report which identifies overlapping Housing and Rental Assistance services provided to a client. The report looks at services across agencies.
Running the Report
Report Location
The report is found in the Administrator section of the Report Library.
Who Can Run the Report
System Administrators, and others with the appropriate access level, can run the report.
Parameters
The following are required to run the report.
| | |
| --- | --- |
| Year | Choose the year the service was provided |
| Month | Choose which month to look at for overlaps |
| Report Output Format | Web Page, PDF, Excel |
Report Details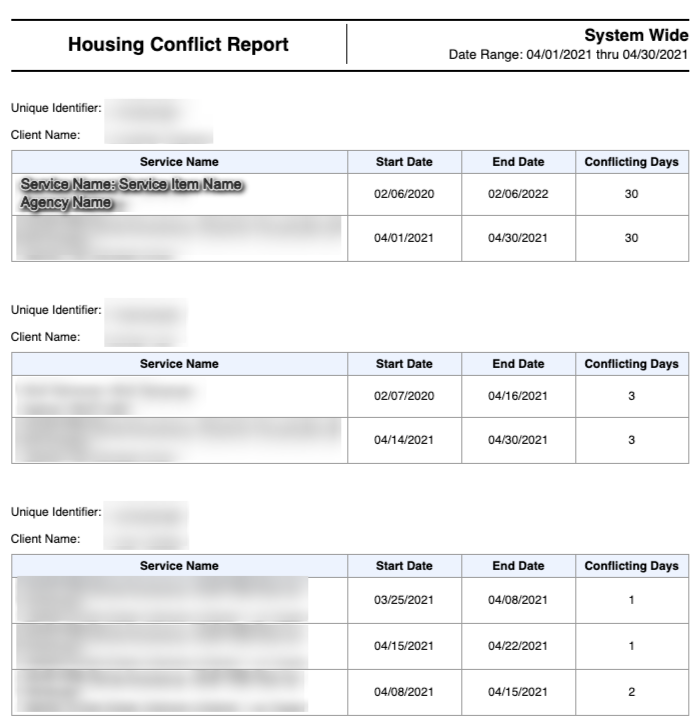 The report provides a separate table for each client with conflicting services. Each table lists the services which are conflicting during the Year and Month selected in the parameters.
The Housing Conflict report looks for services in the following categories:
Housing
Rental Assistance
VA SSVF Service, sub-categories:

Financial Assistance

Rental assistance
Security deposit
The overlap can be for any combination of the above service categories. And the overlap is based on the Start and End Dates of the service. "Conflicting Days" is the number of overlapping days.
Drilldown Functionality
Drilldowns are not required for the report.
Updated: 4/30/2021