Our November Feature Release will include important updates to the collection of Coordinated Entry Events (values 1-18 for Data Element 4.20 in the HMIS Data Dictionary).
Here's a sneak preview of what's coming!*
Overview
Coordinated Entry (CE) Events are designated in Clarity Human Services as either "manual" or "inferred":
Manual events are recorded by the user in the client enrollment record.
Inferred events are recorded automatically by the system through referrals based on criteria such as project type or funding source.
Before This Change
The non-housing CE Events (values 1-9, 16, and 18) are manual events that are set up and recorded as service items. The remaining CE Events are inferred.
Here's What's Changing
CE Event Setup
In the program setup, you'll be able to enable or disable each CE Event as appropriate for that program. You'll also be able to set up any inferred events as manual events.

Manual events can be further configured within the program setup.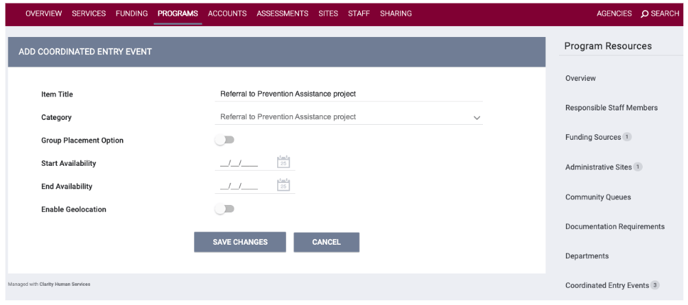 Manual CE Event Recording
Once you've enabled and configured the manual CE Events for your community, users will record the manual events through a new Events tab in the client's enrollment.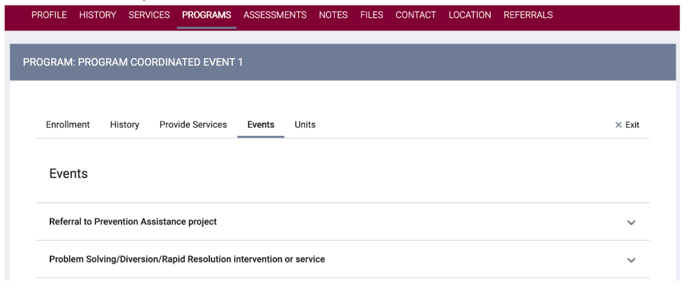 Why are we making these changes?
These changes will allow for greater flexibility in recording CE Events and introduce the ability to import all CE Event values into the system.
Mapping
Existing service item setups for CE Events will be mapped to the corresponding Event subcategory on the CE Event setup page.
All previously recorded CE Events (inferred or as service transactions) will be mapped as Event records and stored in a new Events table.
We are evaluating whether any additional mapping will be required, and will provide any updates in future communications.
Next Steps
This article is just the first step in communicating these changes. In mid-October, we'll provide a System Administrator Checklist to help you prepare. In late October, you'll receive the November Feature Updates article with full guidance so that you'll be ready when we go live with this update in November.
*We're still fine-tuning the details, so the final screens might look slightly different than what we're showing you here!